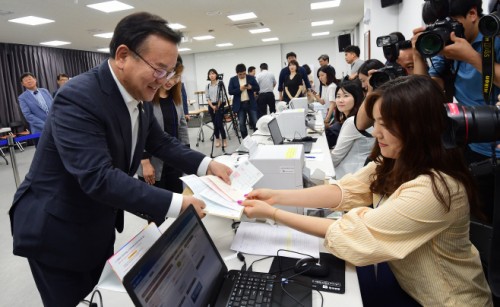 Minister of Interiror Kim Bu-gyeom visited a polling station in Seoul on Thursday, a day before early voting for the June 13 local elections./ Photographed by Song Eui-joo
By AsiaToday reporter Lim Yoo-jin
"Please read the election leaflets delivered to your home at least 10 minutes before you vote."
South Korea has begun two-day early voting for the June 13 local elections and parliamentary by-elections. Eligible voters can cast ballots from 6:00 a.m. to 6:00 p.m. until Saturday.
Local elections, the beginning of grassroots democracy, have actually begun. Voters should select up to eight people for administrative, legislative and educational posts, such as metropolitan mayors and provincial governors.
However, local elections are not drawing high public interest as the historical U.S.-North Korea summit will be taking place on June 12 while the Moon Jae-in government is still enjoying high popularity.
Many voters are not even aware who are the candidates and many leaflets delivered to homes are still left inside the mailbox.
Since there are a lot of candidates to be selected, there are concerns of "blind votes". It certainly won't do any good for the country if the local elections are studded with blind votes under voters' indifference. Considering that indifference towards elections is ultimately linked to voters themselves, they should not verify candidates' pledges roughly.
Experts say that voters should fully read the campaign flyers and leaflets sent to their homes before casting their ballots. "Voters should read campaign leaflets thoroughly to check candidates' policies and their pledges. We have to make the right choice because our choice will affect our lives for the next four years," said Lee Kwang-jae, the head of Korea Manifesto Center, in a telephone interview with AsiaToday on Thursday.
National Election Commission Chairperson Kwon Soon-il appealed to voters Thursday to cast their ballots ahead of early voting for the June 13 local elections. "Please put your faith and hope on your ballot paper for a better life," Kwon said.
There is much attention towards early voting turnout. The early voting system was first introduced in 2013. As high turnout in the early voting usually heralds a higher overall voting rate, both the ruling and the opposition parties are seeking to boost early voting turnout. In particular, voter turnout by generation is one of the main factors that determine the outcome of elections. In general, most young voters in their 20s and 30s support progressive candidates while many older voters in their 50s and 60s support conservative ones.
In the case of the Seoul mayoral election, the unification of opposition candidates has become a pressing matter. Success or failure of the ruling and opposition parties is expected to be affected by the result of the June 12 summit between US President Donald Trump and North Korean leader Kim Jong-un.