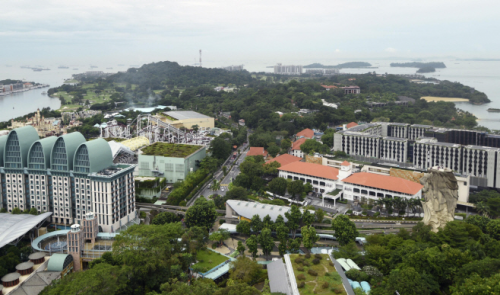 Source: AP-Kyodo, Yonhap


By AsiaToday reporter Jisu Kim
The venue and the timing of the historic meeting between US President Donald Trump and North Korean leader Kim Jong-un have been confirmed.
White House spokesperson Sarah Sanders said in a Twitter post on Tuesday that the venue of the US-North Korea summit would be the Capella Hotel on Sentosa Island in Singapore. As the White House revealed the previous day that the summit would take place at 9am on June 12, the venue and the timing are now all revealed.
It seems that the U.S. had picked the Capella Hotel instead of the Shangri-La Hotel, which had been tipped as a likely venue for the summit, due to security reasons.
Sentosa Island, whose name means "peace and tranquility" in Malaysian, is the fourth largest among 63 islands that make up Singapore. It can be easily secured since it is connected to the Singapore main island by a single causeway that can be easily closed off to traffic.
The Capella Hotel was previously used by the US delegation, headed by White House Deputy Chief of Staff Joe Hagin, conducting working-level protocol talks with North Korea.
The Singaporean Ministry of Home Affairs designated Monday the Tanglin area in the mainland as a "special event area" from June 10 to June 14, and then added all of Sentosa Island, as well as the bridge connecting it to the mainland and its surrounding area, as a "special event area".
As the specific timing and venue are all revealed, the countdown for the Trump-Kim summit has begun.
Trump told reporters Tuesday at an Oval Office event that plans for the summit were "moving along very well." "A lot of relationships being built, a lot of negotiations going on before the trip," he said. "We'll see what happens. But it's very important - it'll be a very important couple of days."
The US President also took to Twitter to express hope for the summit. "Meeting in Singapore with North Korea will hopefully be the start of something big…we will soon see!" Trump tweeted.
Some observers say Trump's remark indicates that he is keeping in mind the possibility of formally ending the Korean War.
Reuters reported that Trump appeared suddenly backed away from his demand for Pyongyang's swift, complete denuclearization after meeting North Korean envoy Kim Yong-chol, who visited the White House with a letter from Kim Jong-un, on Friday. Instead, Trump seems to have changed his mind to make rather more tangible outcome called 'the formal end to the Korean War'. While considering to resolve the denuclearization issue through several talks, Trump seems to be reviewing a 'peace declaration formally ending the Korean War', which could give him a big headline-grabbing moment on the world stage, reported Reuters.

However, experts warned that any end-of-war declaration could erode U.S. leverage in future negotiations if North Korea does not give ground on nuclear issues, said Reuters.