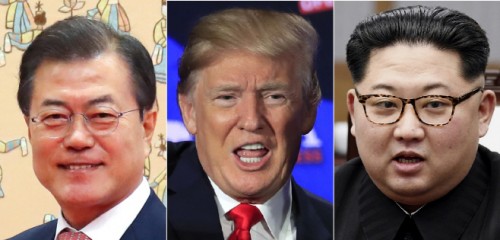 There is a rising possibility that President Moon Jae-in (left) will join U.S. President Donald Trump (center) and North Korean leader Kim Jong-un (right) to declare an end to the Korean War, right after the Trump-Kim summit, which takes place on June 12 in Singapore./ Source: Yonhap News

By AsiaToday reporter Choi Tae-beom
Ahead of a June 12 summit between U.S. President Donald Trump and North Korean leader Kim Jong-un, expectations for a Seoul-Pyongyang-Washington declaration of a formal end to the Korean War are growing. Some say that South Korean President Moon Jae-in could visit Singapore right after the Trump-Kim summit to declare a trilateral declaration to end the war.
However, considering the fact that the U.S.-North Korea summit is just around the corner and that an end-of-war declaration has a lot of significance, the leaders of the three countries could meet at Panmumjom on July 27, which marks the 65th anniversary of the Korean War Armistice, after having enough follow-up talks at working-level.
According to diplomatic sources on Monday, the U.S. and North Korea have been disagreed over denuclearization and security guarantee, but it seems that they have been narrowing their gap with Trump's official announcement of the possibility of an agreement formally ending the Korean War.
The end-of-war declaration would be the first U.S. measure that ensures North Korea its regime guarantee. Experts say that a peace treaty on the Korean Peninsula could be signed after the political declaration to end the war and that either a North Korea-U.S. non-aggression treaty or North Korea-U.S. amity treaty could be discussed in the process.
In particular, if the United States guarantees North Korea's regime security and resolves military threats, there will be a tangible consensus on the early withdrawal and dismantling of North Korea's nuclear warheads and intercontinental ballistic missiles (ICBM).
"President Trump is seemingly trying to appease North Korea thinking that an end-of-war declaration is a step toward a non-aggression agreement," said Jeong Se-hyun, a former South Korean unification minister. "The United States will strongly demand North Korea to pay a return service," Jeong said.
"An end-of-war declaration is a political declaration," said Chung Yong-chul, a professor at Sogang University in Seoul. "Although it is not guaranteed by law or institution, it has a symbolic significance. So if the leaders of the three countries declare an end to the Korean War, it could build a big path toward a peace treaty," Chung said.
Since Trump said there could be several summits with North Korea, speculations are a declaration ending the war could be made on July 27, the day the armistice treaty was signed, at a possible Seoul-Pyongyang-Washington summit.
It seems that President Moon Jae-in wants to declare an end of the Korean War at the trilateral summit immediately after the Trump-Kim summit on June 12. This is because it is a great opportunity to rapidly advance inter-Korean relations as well as to maximize the achievement of the U.S.-North Korea summit.
Cheong Wa Dae appears to be preparing for the possibility of Moon joining the Singapore summit while maintaining to be careful. It is keeping an eye on negotiations between the North and the U.S. by dispatching personnel to Singapore for a South Korea-Singapore summit scheduled in July.
However, there is also a possibility that an end-of-war declaration could be made in mid-September, when the 73rd session of the UN General Assembly is scheduled to take place, if it takes more time than planned either resolving differences between Pyongyang and Washington or holding a trilateral summit.
Experts predict that even if the declaration led by the three countries is made, the final peace treaty on the Korean Peninsula would include China, which is a party to the armistice agreement.
"China's involvement in concluding a peace treaty is essential. It is realistic and desirable," said professor Chung. "China has a clear role in bringing peace to the Korean Peninsula and building a peace regime," he added.