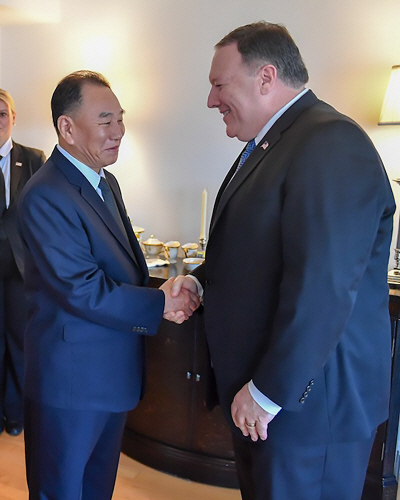 U.S. Secretary of State Mike Pompeoshakes hands with North Korean diplomat Kim Yong-chol during their meeting inNew York, U.S, on May 30./ Source: U.S. Department of State

By AsiaToday reporter Choi Tae-beom
High-ranking officials of the United States and North Korea met in New York on Thursday to have final negotiations ahead of a possible summit between U.S. President Donald Trump and North Korean leader Kim Jong-un.
U.S. Secretary of State Mike Pompeo and top North Korean official Kim Yong-chol wrapped up their final arrangements for the summit and plans for North Korea's complete denuclearization and U.S.' security guarantee, based on the ongoing working-level talks held in Panmunjom and Singapore.
While there has been a tug of war between the two sides over the denuclearization issue, the United States has expressed its willingness to provide security guarantees and economic prosperity in return for North Korea's denuclearization.
A high-ranking U.S. official told reporters Wednesday, "Washington is willing to provide North Korea with security guarantee and economic prosperity if it gives up its nuclear program."
"We want to make it clear complete, verifiable and irreversible denuclearization (CVID) is what we are seeking," the official said. "We want definitive action. We want definitive promise," the official said.
The United States wants to maintain the principle of CVID and believes that it could potentially loosen sanctions on Pyongyang and provide economic aid in return for certain progress of North Korea' nuclear disarmament process.
On the other hand, North Korea believes that the United States should provide immediate compensation for its denuclearization. Some observers say the agreement is likely to be delayed.
A U.S. government official said negotiations about the summit's agenda have so far been slow going, Reuters reported Wednesday.
In particular, the definition of North Korean denuclearization and whether both sides would take actions at the same time or separately remained unsettled, Reuters said.
In fact, the U.S. delegation negotiating with North Korean officials in Panmunjom has extended its stay in Korea at least one more day. "Their talks will continue," said the White House.
South Korea's Foreign Ministry spokesman Noh Kyu-duk told a press briefing that negotiations were underway in Panmunjom between Sung Kim, U.S. ambassador to the Philippines, and Choe Son-hui, North Korea's vice foreign minister. Noh said working-level talks between Pyongyang and Washington were underway in Singapore to discuss protocol and administrative matters for the Trump-Kim summit. Noh also stressed that South Korea and the United States have been consulting every day via various diplomatic channels.