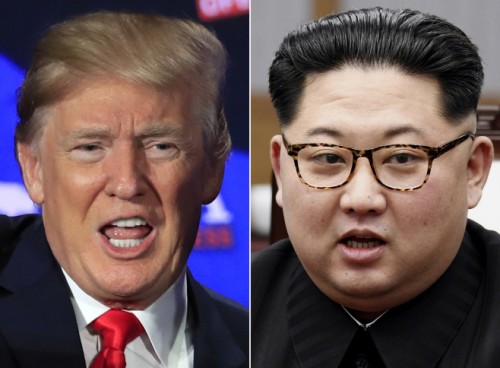 It is noteworthy whether the U.S.-NorthKorea summit between U.S. President Donald Trump (left) and North Korean leaderKim Jong-un will be confirmed at the high-level talks in New York involving KimYong-chol, thevice chairman of North Korea's Central Committee, and U.S. Secretary of StateMike Pompeo on Wednesday./ Source: Yonhap News

By AsiaToday reporter Choi Tae-beom
Two-track negotiations between North Korea and the United States in Panmunjom and Singapore are now in the final stages ahead of a potential summit between U.S. President Donald Trump and North Korean leader Kim Jong-un on June 12.
It seems that final schedule and key agenda of the U.S.-North Korea summit will be confirmed as early as Wednesday through the high-level talks in New York involving General Kim Yong-chol, the vice chairman of North Korea's Central Committee, and U.S. Secretary of State Mike Pompeo.
According to government sources, the working-level talks held this week in Panmunjom to discuss the agenda of the U.S.-North Korea summit were completed Wednesday. The U.S. negotiation team led by Sung Kim, the U.S. ambassador to the Philippines, reportedly held two rounds of talks with North Korean delegation including foreign ministry official Choi Sun-hee.
At the second working-level talks held following May 27, both negotiation teams focused on narrowing their gap on North Korea's denuclearization plan and the U.S.' corresponding plans for regime guarantee.
In Singapore, a separate US team lead by Joe Hagins, deputy chief of staff in the White House, held a second round of working-level talks with Kim Chang-son, who is the North Korean leader's chief of staff. It is noteworthy whether they have reached a consensus on the venue and detailed itinerary of the U.S.-North Korea summit.
General Kim is expected to meet his counterpart Mike Pompeo in a high-level meeting based on the progress made at the working-level talks in Panmunjom and Singapore, in order to make final arrangements for the summit.
Depending on the mood of the high-level talks, General Kim might meet U.S. President Donald Trump in person and deliver Kim Jong-un's handwritten letter or verbal message.
"Kim Yong-chol could possibly deliver Kim Jong-un's handwritten letter revealing his commitment or willingness over key agenda of the summit, such as denuclearization," a North Korean expert said. "This will play a decisive role in bringing Trump's determination to make the summit happen."
If the current atmosphere of working-level negotiations continues in the high-level talks, many say that the U.S.-North Korea summit will happen as planned. If the negotiations on the agenda and protocols carry out smoothly, the date of the summit will be reconfirmed within this week.
The U.S. State Department told reporters there were "tremendous amounts of progress toward the summit" in the last few days, and indicated they will be ready to begin preparations for the summit. The White House also expressed optimism towards the summit. "If it takes on June 12, we're gonna be prepared," White House spokesperson Sarah Huckabee Sanders said. "If it for some reason takes place at a later date, we're gonna be prepared for that as well."