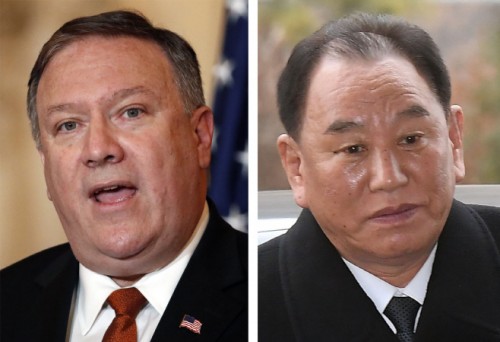 Kim Yong-chol, vice-chairman of the Central Committee of North Korea's Workers' Party, arrived to Beijing Capital International Airport from Pyongyang on May 29. It has been confirmed that Kim appeared on a list of passengers set to depart for New York at 1 pm on May 30. It seems he will meet his counterpart and US Secretary of State Mike Pompeo to make final arrangements for the upcoming US-North Korea summit./ Source: Yonhap News

By AsiaToday reporter Choi Tae-beom
Senior North Korean official and vice-chairman of the Central Committee of the Workers' Party of Korea Kim Yong-chol, who is in charge of practical preparations for the upcoming US-North Korea summit, is heading to the United States.
While working-level talks between North Korea and the United States are being held in Panmunjom and Singapore to discuss agenda for the summit, Kim Yong-chol's US visit seems to be aimed to make final arrangements with the US side for the summit.
The North Korean team, including Kim Yong-chol, arrived to Beijing Capital International Airport from Pyongyang at around 10:00 am on Air Koryo flight JS151. Then Kim appeared on a list of passengers set to depart for New York on Air China flight CA981 at 1 pm on Wednesday.
Choe Kang-il, who is in charge North American affairs in the North, was also spotted among the North Korean team. He supported North Korea's Vice Foreign Minister Choe Son-hui at the recent working-level talks with the United States held in Panmunjom.
After arriving to the United States, Kim Yong-chol and his team will hold high-level talks with key US officials, including Secretary of State Mike Pompeo. Based on the arrangements made at the working-level talks in Panmunjom and Singapore, they will be doing final coordination ahead of the June 12 summit.
"The agenda and arrangements for the summit have been almost completed, and President Donald Trump's decision is all that is needed," a diplomatic expert said. "Kim Yong-chol's US visit seems to be aimed to make final negotiations at the working level and get Trump's final sign."
Dongguk University professor Ko Yu-hwan said, "It's highly likely that Kim Yong-chol is Kim Jong-un's special envoy. He is likely to meet Trump to deliver Kim Jong-un's words while wrapping up the preparations for the summit."
Some raise concerns that the two sides could disagree over the specific methods of denuclearization, including the issue of early removal of nuclear warheads, putting the summit in trouble once again.
However, it seems that the United States and North Korea have reached a consensus in a broad sense considering that Kim Yong-chol's US visit indicates that agenda arrangements are in fact at the final stage.
The US' decision to defer the launch of another round of sanctions against Pyongyang can be seen as part of ongoing efforts to find common ground ahead of the summit.
However, experts say that detailed plans for denuclearization will be reached through further negotiations over a long period of time.
In a recent interview with the press, renowned nuclear physicist and professor of Stanford University Siegfried Hecker said his personal denuclearization estimate ran to 15 years given the tangle of political and technical uncertainties that the United States and North Korea would face if they went ahead and sought a historical accord.