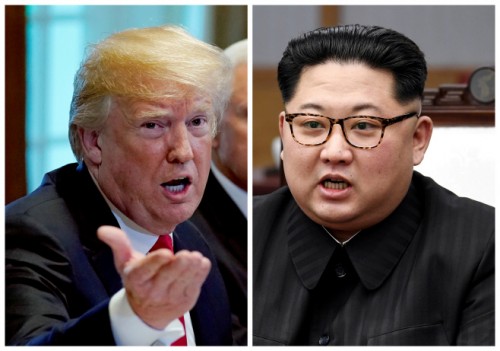 Preliminary talks to make arrangements for the US-North Korea summit are reportedly being held in Panmunjom and Singapore./ Source: Yonhap News

By AsiaToday reporters Choi Tae-beom & Lee Min-young
The once-cancelled June 12 summit between the United States and North Korea is likely to occur. Working-level meetings are continuing in both Panmunjom and Singapore to make final adjustments to agenda, raising hopes that the Singapore summit will take place.
US Ambassador to the Philippines Sung Kim, a key diplomat in the 2005 six-party talks, and North Korean foreign ministry official Choi Sun-hee held talks Sunday and Monday at Tongilgak on the northern side of Panmunjom, according to government officials on Monday.
During the preliminary talks, both sides have reportedly focused on adjusting the agenda of the summit, such as denuclearization and regime security guarantee. Their agenda tuning is garnering attention as their meeting could bring the success of the US-North Korea summit.
It is also noteworthy that the talks between the two sides were held at the northern side of Panmunjom. US officials negotiating in a symbolic place of hostility towards the US shows that the US has accepted some of what North Korea has been asking for.
The talks between Sung Kim and Choi Sun-hee are expected to continue on Tuesday. On the same day, North Korea and the United States are expected to hold working level consultations on protocol, security, and guards in Singapore, where the US-North Korea summit will be held.
In Singapore preliminary talks, a separate US team lead by Joe Hagins, deputy chief of staff in the White House, will meet Kim Chang-son, who is the North Korean leader's chief of staff.
If the talks between the two channels in Panmunjom and Singapore are completed smoothly, the North Korea-US summit will be confirmed within this week at earliest.
US President Donald Trump confirmed Sunday that working-level talks were held in North Korea, and said North Korea will be a "great economic and financial Nation one day," referring that he is returning to the summit and plans to provide economic compensation for North Korea's denuclearization.
However, there are concerns that the North Korea-US summit could walk down steep path once again if the two sides fail to narrow their gap at the working-level talks on the topic of taking out North Korea's existing nuclear weapons, which is the key issue in the implementation of the denuclearization process.
"The United States is demanding that North Korea's nuclear warheads be taken out of the country in the near future," a diplomatic expert said. "Since North Korea is refusing to take the case of Libya, which resulted in the fall of its regime, it won't be easy to narrow the gap on the specific methods of denuclearization."