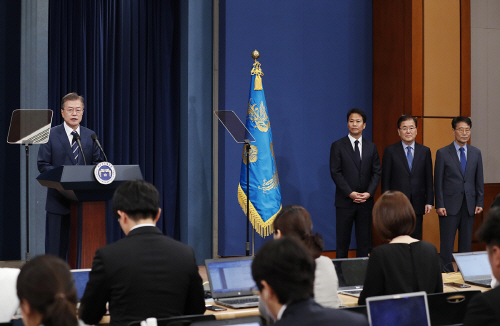 President Moon Jae-in announces the outcome of his second summit with North Korean leader Kim Jong-un held on the previous day, in a media briefing at Cheong Wa Dae on Sunday with presidential chief of staff Im Jong-seok, National Security Office (NSC) chief Chung Eui-yong, and presidential chief of staff for policy Jang Ha-sung in attendance./ Source: Cheong Wa Dae

By AsiaToday reporter Joo Sung-sik
President Moon Jae-in rekindled the dying embers of the US-North Korea summit in Singapore scheduled for June 12, through his surprise summit with North Korean leader Kim Jong-un on Saturday. The leaders of two Koreas, who met again with each other 29 days after the April 27 Panmunjom Declaration, made it clear once again at home and abroad that they are willing to successfully hold the Singapore summit. The two reaffirmed their willingness to quickly carry out the Panmunjom Declaration and agreed to hold high-level inter-Korean talks on June 1, restoring inter-Korean relations.

President Moon announced the results of his second inter-Korean summit with Kim Jong-un at a media briefing held at Cheong Wa Dae on Sunday. "Chairman Kim and I agreed that the June 12 summit should be held successfully, and that our journey for the Korean Peninsula's denuclearization and a permanent peace regime should not be stopped. In order to do this, we have decided to cooperate closely," Moon said.
The May 26 inter-Korean summit, proposed by Chairman Kim, provides an opportunity for occasional dialogue and communication between the two Koreas if necessary to completely denuclearize and to create a peace regime on the Korean Peninsula through successful summit between North Korea and the United States, as well as improving the inter-Korean relations. "Chairman Kim requested a meeting without any formality two days ago and I gladly accepted it," Moon said. "I'd like to say the summit, which was held like an everyday event between friends, is as much meaningful as the historic Panmunjom summit in April."
In particular, Moon told Kim at the May 26 summit, "It is meaningful to show the willingness of the two Koreas to cooperate together ahead of the very important meeting (between the North and the United States)." He stressed that the fact that the leaders of the two Koreas could meet each other when it's necessary by calling could be a symbol of opening up a new era of inter-Korean relations.
Above all, the biggest achievement of President Moon is the fact that he rekindled the dying embers of the highly-anticipated US-North Korea summit, which was previously cancelled by US President Donald Trump on May 24. He also was good at playing a role as a mediator by delivering Trump's promise to Kim made at the US-South Korea summit on May 24 to provide North Korea economic prosperity and guarantee Kim's regime to compensate for denuclearization.
North Korea's Korean Central News Agency (KCNA) reported that Kim expressed his firm will on the US-North Korea summit talk during the second inter-Korean summit with Moon. Kim also thanked Moon for the efforts made by him for the US-North Korea summit scheduled for June 12, said KCNA. This is the first time North Korea made public that US-North Korea summit will be held on June 12.