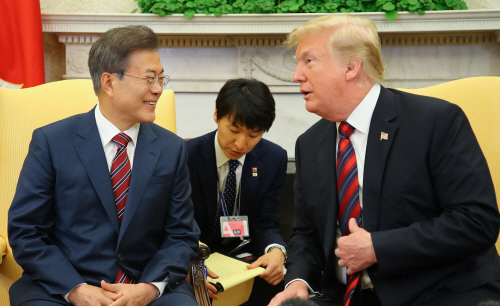 President Moon Jae-in talks with US President Donald Trump in the Oval Office of the White House in Washington DC on May 22./ Source: Yonhap News

By AsiaToday reporter Joo Sung-sik
The leaders of South Korea and the United States on Tuesday have fine-tuned the details for the successful North Korea-US summit and a roadmap to North Korea's denuclearization. They made a final confirmation of the stances of the two Koreas, the United States, and China on North Korea's complete denuclearization to find the right balance among them almost three weeks before the June 12 summit in Singapore.
President Moon Jae-in and US President Donald Trump discussed ways for the complete denuclearization of North Korea and the permanent establishment of peace on the Korean Peninsula at their meeting at the White House in Washington DC. It was their fourth summit since Moon took office in May last year. Following their one-on-one meeting, the two leaders discussed ways to cooperate closely during a two-hour luncheon accompanied by their key aides.
Firth the two leaders discussed the recent situation in the Korean Peninsula and exchanged their opinions on their cooperation plan for complete denuclearization and permanent establishment of peace on the Korean Peninsula. They vowed to cooperate closely to achieve detailed agreement for substantive denuclearization during the North Korea-US summit on June 12. To this end, they carefully examined the conditions of the North Korea-US summit and discussed strategies and measures to move toward complete denuclearization of the Korean Peninsula.
The leaders also discussed detailed ways to provide a brighter future for North Korea if it follows correct path of complete denuclearization that the two Koreas agreed during the April 27 Panmunjom Declaration. President Moon once again praised President Trump's firm commitment to the denuclearization of the Korean Peninsula, the establishment of permanent peace, and the improvement of US-North Korea relations. The two leaders agreed to keep working closely with neighboring countries so that the North Korean nuclear issue can be solved early.
At the luncheon, Moon and Trump continued their broad consultations on resolving the North Korean nuclear issue with their key aides in attendance. Moon reaffirmed his willingness to continue developing inter-Korean relations agreed between the two Koreas at the Panmunjom Declaration while communicating and cooperating closely with the United States in the progress of inter-Korean relations. The two leaders reaffirmed that the South Korea-US alliance has served as a linchpin in resolving the North Korean nuclear issue as well as for peace and security on the Korean Peninsula and in the region. Ahead of the summit, President Moon met with US Secretary of State Mike Pompeo and National Security Advisor John Bolton, and promised full support from the South Korean government for successful opening of US-NK summit.
"We think it is 99.9 percent likely that the summit will take place," Chung Eui-yong, head of the Blue House's National Security Office, told reporters on the presidential plane en route to Washington for Moon's summit with Trump. President Moon will return home on Thursday.