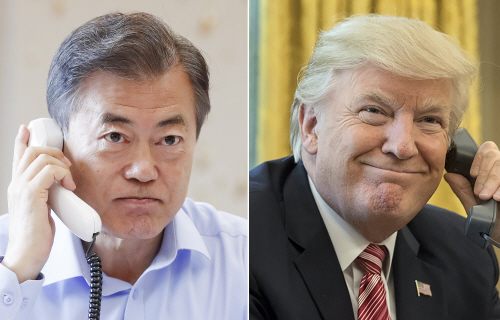 President Moon Jae-in speaks to US President Donald Trump on the phone in the presidential office Cheong Wa Dae, May 20, 2018./ Source: Yonhap News


By AsiaToday reporter Son Ji-eun
President Moon Jae-in and US President Donald Trump on Sunday discussed North Korea's recent threats to both South Korea and the United States. The conversation mostly involved Trump asking questions and Moon answering. Considering that the US-South Korea summit will be held in Washington on Tuesday, it seems that Trump is paying a great deal of attention to North Korea's recent steps.
"President Moon and US President Donald Trump talked for 20 minutes from 11:30 a.m. to 11:50 a.m.," Yoon Young-chan, the senior press secretary to President Moon Jae-in, said at a briefing. "The two leaders agreed to work closely through events like their upcoming meeting to ensure the North-US summit is successful," Yoon said.
"The two leaders exchanged opinions on the recent situation and various actions taken by North Korea recently," a senior Cheong Wa Dae official told reporters. "Given that the two leaders will meet two days later and the call was made at late night Washington time, it appears to show strong determination from Trump for a successful North-US summit," the official said. "Trump particularly asked Moon's opinions a lot," he added.
The two leaders seem to have shared their opinions on the true nature of North Korea's recent threat to pull out of the high-level talks made by North Korean hardliners, including Kim Kye-gwan, North Korea's first vice minister of foreign affairs, and Ri Son-kwon, chairman of the Committee for the Peaceful Reunification of the Country. Some observers predicted that there could be the first call between the leaders of two Koreas via hotline right before President Moon's Washington visit. However, a senior Cheong Wa Dae official said, "It is unlikely to happen."
President Moon is scheduled to leave for Washington on Monday. He will meet key members of the US administration's foreign and security policy on Tuesday. US Secretary of State Mike Pompeo, who recently met North Korean leader Kim Jong-un twice, attends the meeting.
Then, Moon will have a one-on-one meeting with Trump to deliver the outcome of the April 27 inter-Korean summit in Panmunjom and to discuss Pyongyang's steps and the upcoming US-North Korea summit.