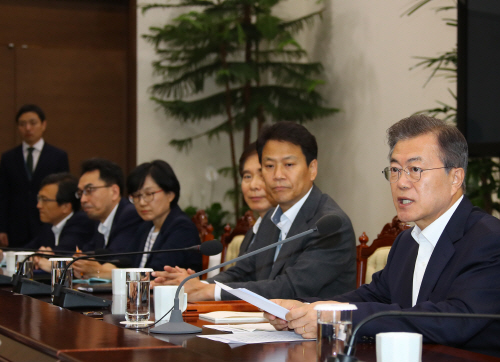 President Moon Jae-in talks during a meeting with his senior aides at the presidential office Cheong Wa Dae on May 14./ Source: Yonhap News

By AsiaToday reporters Choi Tae-beom & Joo Sung-sik
President Moon Jae-in on Monday highly evaluated North Korea's preemptive measure, including the shutdown of its Punggye-ri nuclear test site and the release of American captives, saying that it will be an "initial step in the complete denuclearization of North Korea."
"It could be viewed positively in that North Korea is showing a great commitment to the success of the North-US summit," Moon said in a meeting with his aides at the presidential office Cheong Wa Dae.
"I'd like to appreciate the fact that Chairman Kim Jong-un is faithfully taking steps to implement all the promises he made to me at the inter-Korean summit," the president said.
"Preparations to hold the North Korea-US summit successfully for complete denuclearization of the Korean Peninsula are soundly underway between the two countries. The whole world hopes for the success of the summit, and our government is also working together," he said.
Moon called for national unity to support the US-North Korea summit, saying, "It influences the future of the Korean Peninsula and the Republic of Korea more than any other country in the world. It goes far beyond advantages or disadvantages in the local elections. I hope our political circles will show politics of harmony to the people at least on this issue."
While a ceremony to shutdown the Punggye-ri nuclear test site is scheduled to take place from May 23-25, the shutdown is expected to be the first step towards complete denuclearization and the basis for the success of the North-US summit.
In particular, many believe that North Korea's bold action was based on a big deal already made between the two countries to offer economic rewards to the North in return for complete denuclearization.
It seems that US President Donald Trump's reward program is ensuring the survival of Kim Jong-un's regime and promoting American private sector investment in North Korea if it complies with US demands for denuclearization, in order to alleviate North Korea's fears of regime change with the abandonment of its nuclear weapons.

In an interview with American media outlets on Sunday, US Secretary of State Mike Pompeo said, "We can create conditions for real economic prosperity for the North Korean people that will rival that of the South."
US National Security Adviser John Bolton also said Sunday that North Korea would have to first demonstrate significant progress toward denuclearization "before the benefits start to flow."