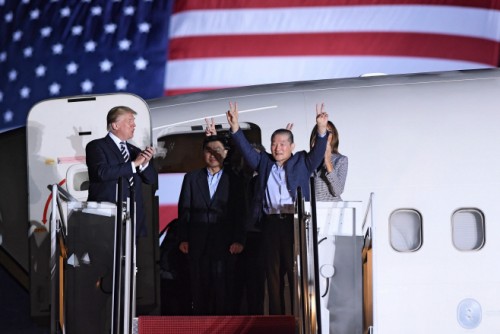 Three Korean-Americans freed from prison in North Korea arrived at the Joint Base Andrews in Maryland, early Thursday to a personal welcome from US President Donald Trump./ Source: Yonhap News

By AsiaToday reporters Choi Tae-beom & Kim Ye-jin
North Korea is actually taking preemptive measures ahead of its summit with the US, by releasing three Korean-American detainees followed by the preparation to shut down its Poongyeri nuclear test site.

This can be seen as a measure to build trust given the suspicion that remains in the United States and the international community about North Korean leader Kim Jong-un's commitment to denuclearization and his sincerity towards the upcoming summit. In particular, some observers say that detailed consensus has been already reached between the two countries on the issues of denuclearization and regime guarantee with sufficient exchange of opinions.

US Secretary of State Mike Pompeo, who made a revisit to Pyongyang in 40 days after his first visit in March, landed at the Joint Base Andrews in Maryland near Washington on Thursday with three American detainees.
During Mr. Pompeo's 90-minute meeting with leader Kim Jong-un, he discussed specifics such as the location and date, how long it will go on, and the exact venue for the summit. He also negotiated the issue of releasing the three Korean-American detainees Kim Dong-chul, Tony Kim and Kim Hak-song.
On his way to Pyongyang, Pompeo had said there were no guarantees that the American prisoners would be freed during his visit. However, after the meeting with the North Korean leader, he gave reporters a fingers-crossed sign when asked about the prisoners. Then North Korea released the prisoners by an amnesty granted by Mr. Kim.
The North's Korean Central Television exceptionally reported Thueday that during the meeting with Pompeo, Kim highly assessed and appreciated Trump's deep interest in resolving the problems through dialogue and a "new alternative" as well as his active attitude toward their upcoming summit. North Korean media outlets also reported that Kim and Pompeo have reached satisfied agreements.
This demonstrates that the two countries are nearing agreements considerably on the key issues beyond the release of detainees, such as denuclearization of North Korea, the guarantee of the regime, the lifting of sanctions against the North, and economic compensation.
Donald Trump and the first lady, Melania Trump, Vice President Mike Pence and his wife, Karen Pence, were among those who traveled to the base to welcome the American detainees. "Frankly we didn't think it was going to happen and it did," Trump said after thanking Kim for releasing them.
Trump stressed that North Korea's release of detainees is part of an effort to denuclearize the Korean Peninsula and was hopeful of a major breakthrough at the planned meeting.
With North Korea's goodwill gesture and the US' signs of gratitude, positive expectations are growing that the North Korea-US summit will be successful.