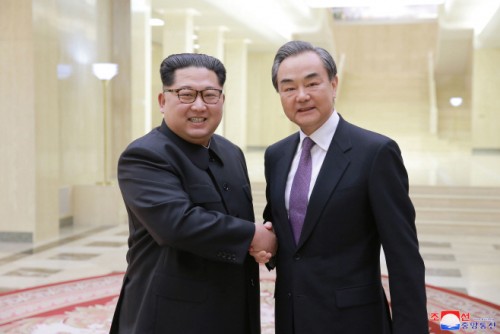 North Korea's supreme leader Kim Jong-un met with China's foreign minister Wang Yi on May 3, reported North Korea's Korean Central News Agency on May 4./ Source: Yonhap News

By AsiaToday reporter Choi Tae-beom
North Korean leader Kim Jong-un has reportedly visited China ahead of his planned historic summit with US President Donald Trump, making subtle changes to the peaceful mood on the Korean Peninsula.
According to multiple North Korean sources on Tuesday, one of the country's highest ranking leaders flew in a private plane and arrived at Dalian airport on Monday to meet with key Chinese officials. The official, who is said to be Kim Jong-un, will be returning home Wednesday.
It has been also revealed that Chinese President Xi Jinping also travelled to Dalian to attend a ceremony marking the test operation of an aircraft carrier, fuelling speculation that the leaders of the two countries held a meeting again within 40 more days since March.
Kim's China visit seems to be intended to make a rough sketch of the North-US summit with China. North Korea could strengthen its power of negotiation ahead of Trump summit by using China as its hidden card. In the case of China, it could actively intervene the Korean Peninsula issue in the stance of North Korea while wiping out concerns of so-called "China passing", a local term for Beijing's seeming isolation in negotiations on North Korea's denuclearization.
Strengthening the North Korea-China relations ahead of US President Donald Trump's announcement of the location and date for the summit delivers a strong message to the United States.
Observers say North Korea has expressed its willingness to negotiate on equal terms with the US, who has raised its demand to the "permanent, verifiable, irreversible dismantlement" (PVID) of the North Korean weapons from the "complete, verifiable, irreversible" dismantlement (CVID).
Besides, observers say that North Korea and China intended to hold Seoul-Washington ties in check by showing off their close friendship ahead of the Moon-Trump summit on May 22.
South Korea and the US are keeping a close watch on China with concerns that it could stop the "peace watch on the Korean Peninsula" if it decides to support North Korea, who has been seeking a breakthrough due to China's involvement in sanctions against the North.
In fact, it has been already confirmed that the expression of CVID will not be included in a special statement that will likely be adopted after the upcoming trilateral summit among South Korea, China, and Japan on May 9.