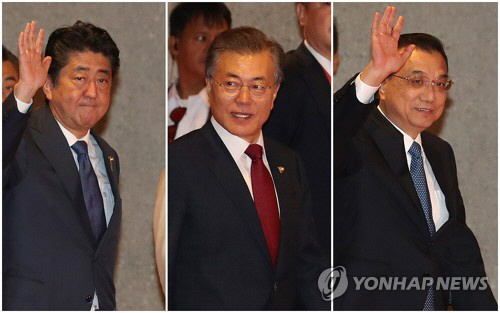 Cheong Wa Dae announced that Korea, Japan, and China would resume their trilateral summits in Tokyo on May 9. (From left) Japanese Prime Minister Shinzo Abe, South Korean President Moon Jae-in, and Chinese Premier Li Keqiang who attended the ASEAN Plus Three Summit held in November 2017 in Manila, Philippines./ Source: Yonhap News

By AsiaToday reporter Joo Sung-sik
Following the inter-Korean summit on April 27, President Moon Jae-in is about to embark on a series of summit meetings with four neighboring countries to build peace on the Korean Peninsula.
Considering that Moon's efforts to mediate among the neighboring countries will come to stage successively, the upcoming summit meetings starting from this week to mid-June will be the greatest challenge for denuclearization and establishment of a permanent peace regime of the Korean Peninsula.
First of all, Moon will meet with Japanese Prime Minister Shinzo Abe and Chinese Premier Li Keqiang on Wednesday in Tokyo for the 7th South Korea-China-Japan trilateral summit. The president's economic adviser, Kim Hyun-chul said last Friday that Moon will visit Tokyo on May 9 to attend the 7th South Korea-China-Japan trilateral summit and that his trip will be the first visit to Japan by an incumbent South Korean president in six and a half years.
Moon's Japan trip is aimed to attend the summit among the three northeastern Asian countries, but it is meaningful that he will complete presidential visits to four neighboring countries in first year in office. Kim also said that Moon's trip is "meaningful in putting the summit diplomacy with the four neighboring countries on the right track."
President Moon is expected to share the outcome of the inter-Korean summit in the upcoming trilateral summit, and the three leaders are expected to issue a special declaration supporting the Panmunjom Declaration. In Moon's bilateral summit with Li, he is expected to request for China's active cooperation on North Korean leader Kim Jong-un's commitment to denuclearization revealed during the inter-Korean summit. It is noteworthy how Moon will take joint steps for adopting a special declaration urging the North to carry out complete, verifiable and irreversible denuclearization (CVID) that Japan is expected to request. Moon, Abe, and Li will also discuss ways to encourage more business between the three countries.
Moon will hold the fourth summit meeting with US President Donald Trump at the White House on May 22. He is expected to discuss concrete measures with Trump to implement North Korea's commitment to denuclearization. As Moon is likely to have his first hotline call with North Korean leader Kim before the South Korea-US summit, the interest is focused on what kind of message he will deliver to Trump.
The president is expected to wrap up his summit diplomacy by meeting Russian President Vladimir Putin on a state visit to Russia in the middle of next month. Moon was asked by Putin in a phone conversation on April 29 to make a state visit to Russia in June to explain the outcome of the inter-Korean summit.