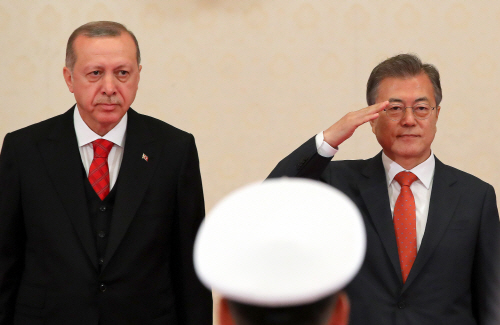 President Moon Jae-in and Turkish President Recep Tayyip Erdogan, who visited South Korea on a state visit, attend an official welcoming ceremony held at the presidential Cheong Wa Dae in Seoul on May 2./ Source: Yonhap News

By AsiaToday reporter Son Ji-eun
President Moon Jae-in on Wednesday gave a warning to his special national security and foreign affairs adviser Moon Chung-in over his claims that US troops stationed in the country would have to leave if a peace treaty was signed with the North.
In an article for the US diplomatic magazine Foreign Affairs, Moon Chung-in had written, "There will be a strong conservative opposition to the reduction and withdrawal of US forces, posing a major political dilemma for Moon (Jae-in)."
Expressing concern about his views, President Moon said US Forces Korea (USFK) is a matter of the South Korea-U.S. alliance and that its presence has nothing to do with signing a peace treaty, according to his spokesperson Kim Eui-kyeom. The spokesman also said presidential chief of staff Im Jong-seok called Moon Chung-in and asked him not to make comments that could be misunderstood as the President's opinion.
A key Cheong Wa Dae official said the US has not made any comment about special adviser Moon's column. He added the leaders of the two Koreas also did not talk about the USFK issue during their summit last month. "We don't want unnecessary confusion to be created," the official said.
This indicates that Seoul will clear up any unnecessary misunderstandings which may spark political dispute at a critical period ahead of the North Korea-US summit talks between North Korean leader Kim Jong-un and US President Donald Trump.
Cheong Wa Dae also said the presence of US forces is necessary even after a peace treaty is signed. "We believe the USFK are needed as a mediator in the military configuration of regional powers including China and Japan," the key Cheong Wa Dae official said.
President Moon had revealed at a luncheon with media CEOs at Cheong Wa Dae on April 19, "North Korea has expressed its commitment to complete denuclearization and has not attached any conditions that the US cannot accept, such as the withdrawal of US troops from South Korea."