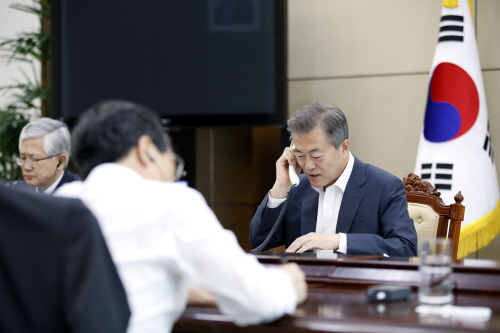 President Moon Jae-in holds telephone conversation with U.N. Secretary-General Antonio Guterres on May 1 to share the results of the inter-Korean summit and to discuss ways for North Korea's denuclearization./ Source: Cheong Wa Dae

By AsiaToday reporter Son Ji-eun
President Moon Jae-in will visit Japan for trilateral talks with Chinese Premier Li Keqiang and Japanese Prime Minister Shinzo Abe on May 9.
Moon will become the first South Korean president to visit Japan in six years after former President Lee Myung-bak's visit. It's also the first visit to Japan by a Chinese premier since May 2011.
"President Moon will discuss ways to strengthen trilateral cooperation in the upcoming South Korea-China-Japan summit while discussing in depth the issues related to major regions including Northeast Asia and international political situations," said Cheong Wa Dae spokesperson Kim Eui-kyeom on Tuesday.
In addition, President Moon will share the result of the inter-Korean summit held at Panmunjom last month. "President Moon will discuss ways to strengthen trilateral cooperation for the denuclearization of the Korean Peninsula and the establishment of permanent peace," the spokesperson added.
On the sidelines of the event, Moon will hold bilateral talks with Abe. They had three rounds of summit talks, most recently during the PyeongChang Winter Olympics in February. The two are likely to further discuss the North Korea-Japan relations since Abe expressed his willingness last month to meet North Korean leader Kim Jong-un while President Moon said he would be "happy to build a bridge between the two nations".
However, it's not yet confirmed whether Moon will hold a summit meeting with Chinese Premier Li Keqiang. Moon will have a phone conversation with Chinese President Xi Jinping before meeting with Li.
Meanwhile, Moon asked the United Nations Tuesday to help verify North Korea's planned shutdown of its Punggye-ri nuclear test site. In his phone conversation with U.N. Secretary-General Antonio Guterres, Moon said, "Chairman Kim had promised to reveal it transparently to not only South Korea and the United States but also the international community."
"I would like the U.N. to issue a declaration to support the Panmunjom Declaration via the General Assembly or the Security Council," the president said. "The U.N.'s support will not only strengthen the development of inter-Korean relations, but also the success of the upcoming U.S.-North Korea summit," he added. President Moon also asked Guterres to get the U.N. involved in the process of verifying that North Korea is committed to transforming the Demilitarized Zone into a peace zone. The U.N. chief responded he is willing to cooperate in the process of establishing peace on the Korean Peninsula, although U.N.'s involvement would need the Security Council's assent. He added he would assign a U.N. disarmament official to work with Seoul on the matter.