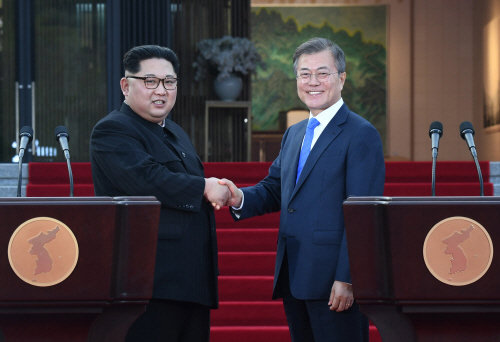 South Korean President Moon Jae-in and North Korean leader Kim Jong-un shake hands after announcing Panmunjom Declaration at the truce village of Panmunjom inside the DMZ separating the two Koreas, South Korea, April 27./ Source: Joint Press Corps

By Panmunjom Joint Press Corps / AsiaToday reporter Joo Sung-sik
North and South Korea have agreed to declare an official end to the war by the end of this year and turn the armistice agreement that ended the Korean War in 1953 into a peace treaty. They agreed to work to remove all nuclear weapons from the Korean Peninsula and stop all military hostilities. They also agreed to set up a joint liaison office in the North's city of Kaesong to ensure civilian exchanges and cooperation. Both sides agreed on expanding civilian exchanges and pursuing joint sports events and economic cooperation, such as resuming the reunion for separated families, jointly participating in the Asian Games, and connecting the Donghae and Gyeongui railway lines that cross the DMZ and connect the two Koreas.
President Moon Jae-in and North Korean leader Kim Jong-un on Friday signed and jointly announced the document titled the Panmunjom Declaration for Peace, Prosperity and Unification of the Korean Peninsula, at the Peace House building at Panmunjom at 6 p.m..
The most eye-catching part is that the two leaders firmly stipulated in the declaration that there will be no more war on the Korean Peninsula. The declaration included measures to establish permanent peace on the peninsula, such as suspension of military hostile acts, adhering to existing non-aggression agreements, and gradually reducing military arms.
In addition, human exchanges, such as resuming temporary reunions of relatives separated by the Korean War, and economic cooperation plans, such as connecting the Donghae and Gyeongui railway lines, were included in the declaration after in-depth discussions of the two leaders. Besides, President Moon also agreed to visit Pyongyang this autumn, helping accelerating the regularization of inter-Korean summit talks.
"Chairman Kim and I have reached a precious agreement led by the desire of 80 million Koreans for peace," Moon said in a joint declaration after signing the Panmunjom Declaration. "There will be no more war on the Korean Peninsula and we will be proclaiming the new era of peace is open," the president said. "The two leaders affirmed their common goal of realizing a nuclear-free Korean Peninsula through complete denuclearization," he said.
"North Korea's pledge earlier this month to freeze nuclear testing is extremely important and it is a valuable start for complete denuclearization of the Korean Peninsula," Moon said. "I declare that the South and North will work more closely together for complete denuclearization."
North Korean leader Kim Jong-un said he and President Moon had the first meeting with a sense of responsibility and mission at the Panmunjom, where the tragedy of division and desire for reunification are connected. "We have confirmed our firm so that all Korean people enjoy prosperity and happiness on a peaceful land without wars, and agreed on practical measures," Kim said. "If Panmunjom becomes a symbol of peace, the North and South that have one blood, one language, one history and one culture, will return to becoming one to enjoy prosperity."