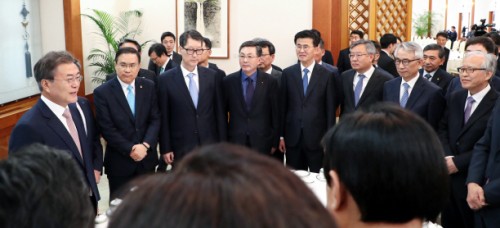 President Moon Jae-in speaks during a luncheon meeting with presidents of local news outlets at his office Cheong Wa Dae in Seoul on April 19. The fourth left is Asia Today president Woo Jong-soon. / Source: Yonhap News

By AsiaToday reporter Joo Sung-sik

"The ultimate goal that we wish to achieve through the denuclearization and the peace settlement on the Korean Peninsula is co-prosperity of the two Koreas," President Moon Jae-in said while meeting with presidents of local media outlets at his office Cheong Wa Dae on Thursday, to seek their advice on the upcoming summit with North Korean leader Kim Jong-il scheduled for April 27.
"Through the inter-Korean summit, we must build a firm milestone to open the road to the denuclearization of the Korean Peninsula, the establishment of a permanent peace regime and the sustainable development of inter-Korean relations," the president said.
It is the first time President Moon has held a luncheon meeting with the heads of local news outlets since he took office in May last year. The last time that a president held a luncheon with top executives of local news outlets was during Kim Dae-joon administration in June 2000. The luncheon was held to seek the executives' advice on the upcoming inter-Korean summit. The top executives of 47 local news outlets, including Asia Today president Woo Jong-soon, attended the meeting.
"Looking back, only a few months ago, the shadow of war glimmered on the Korean Peninsula as military tensions escalated extremely," the president said.
"Many people have called my Berlin declaration in July last year a dream, but the dream is now becoming reality. It was a bold imagination and strategy that turned the tide and created the situation of today," he said.
However, President Moon warned against hasty optimism, saying, "North Korea is now expressing its willingness to completely denuclearize and showing us its active will to communicate, but it is too early to guarantee the success of the dialogue."
"We will need bold imagination and creative solutions to make the two summits successful without repeating the mistakes of the past," he said. "Since my and the government's imagination and solutions may not be enough, I ask you to collect your wisdom."
"The press is the government's partner in the summits," Moon said. "When the press first gathers public opinions and become a guide to peace on the Korean Peninsula like the past, I believe the success of the two summits, as well as the complete denuclearization of the peninsula and the establishment of permanent peace will come soon."