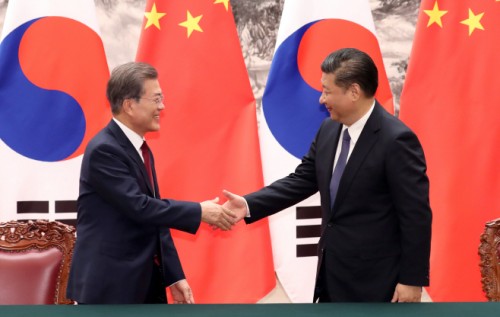 President Moon Jae-in and Chinese President Xi Jinping shake hands after signing the MOU at the Great Hall of the People in Beijing on December 14, 2017./ Source: Yonhap News

By AsiaToday reporter Choi Tae-beom
"The Pyongyang-Beijing relations will get much better. It shouldn't be a South Korea-U.S.-Japan against North Korea-Russia-China confrontation like the past Cold War." (Chung Jae-heung, a researcher from the Sejong Institute think tank)

"We have to show that we have no intention to overlook China on Korean Peninsula issues. A separate diplomatic track needs to be set up to persuade that South Korea won't damage national interests of specific countries." (Lee Jung-nam, a professor at Korea University's Asiatic Research Institute)
China's steps in preparation for upcoming inter-Korean talks and dialogue between North Korea and the United States has quickened. China seemed to be excluded diplomatically from the North Korean crisis amid rapid progress in preparations for inter-Korean and North Korea-US summits. However, China has become a key player on issues related to the Korean Peninsula since the North Korea-China summit was held last month.
Song Tao, head of the International Department of Communist Party of China (CPC) Central Committee, recently met with North Korean leader Kim Jong-un, showing off its restored ties with North Korea. Chinese Foreign Minister Wang Yi visited Japan for high-level talks for the first time in eight years, suggesting that China will take an active role in Korean Peninsula issues.
South Korea is now facing the challenge of leading the situation by improving the Seoul-Beijing relations further to let China play a constructive role in denuclearizing North Korea.

Even if the inter-Korean and North-U.S. summit talks achieve good results, it is difficult to make progress on the Korean Peninsula issues such as denuclearization and establishment of lasting peace while excluding China, in the situation where North Korea and China team up.
Fortunately, Seoul-Beijing relations, which were strained by the deployment of the THAAD missile defense system, are improving to a higher level. The bilateral relations have shown positive sign of improvement since the joint statement in late October to improve ties.
In November, President Moon Jae-in had a summit meeting with Chinese President Xi Jinping and Premier Li Keqiang with the Asia-Pacific Economic Cooperation meeting (APEC) as a momentum.
Besides, President Moon made a state visit to China on Xi Jinping's invitation last December and declared a new era of bilateral ties after holding a summit with the Chinese leader. As a result, both countries agreed to restore exchange and cooperation in all areas to a normal track, marking the end of the THAAD conflict.
However, many point out that not all is rosy for Korea-China relations due to the crisis factors. The bilateral relations have been heavily influenced by the North Korean nuclear issue amid the hegemonic competition between the U.S. and China.
"The greatest pending issue between China and South Korea is the North Korean nuclear issue. There has been a subtle difference among the two Koreas, the United States, and China since the North-China summit was held in March," said Kim Han-kwon, a professor at the Korea National Diplomatic Academy.
"South Korea hopes that the North Korea-U.S. summit will stably lead to denuclearization. This requires a lot of coordination with China in terms of policy priorities. Coordination should be also achieved between North Korea and the U.S., and between the U.S. and China," Kim said.