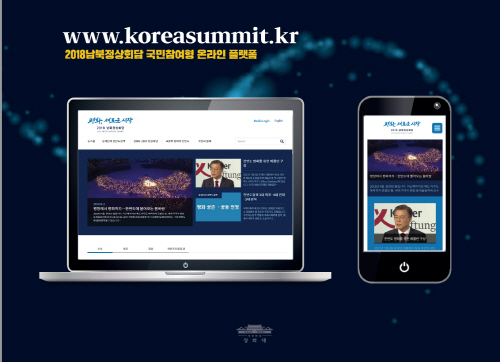 A website that delivers update-to-date information to the public on the 2018 Inter-Korean Summit will be open on Tuesday./ Source: Cheong Wa Dae

By AsiaToday reporter Son Ji-eun
The government has selected "Peace, a new start" as an official slogan for the 2018 Inter-Korean Summit, the presidential office said Sunday. Besides, the government has decided to introduce an online platform dedicated to providing details of the summit to the public in real time.
The slogan means that the April 27 summit between President Moon Jae-in and North Korean leader Kim Jong-un is not one-time event, but an "entrance" to denuclearization of the Korean Peninsula and establishment of lasting peace. In the same context, the government named the upcoming summit as the "2018 Inter-Korean Summit" rather than the third summit following the summits in 2000 and 2007. President Moon is planning to hold a summit with North Korea several times during his term. The slogan also signifies that the summit will serve as a guide for summit talks between North Korea and the United States scheduled in May or early June.
The government also plans to open an online platform (
www.koreasummit.kr)
that update the public with breaking news and other relevant information before the summit. On April 11, President Moon said, "Currently, Panmunjom shows the confrontational inter-Korean situation, but it will dramatically contrast on the day of the talks since it will be a symbol of dialogue." The president ordered his officials to provide the concrete preparation process to the public. Previously, South Korea opened a special website on the second inter-Korean summit in 2007, however it was only aimed to offer information to the press, not the public. The latest version is designed at communicating with the people for the first time over the summit.
The online platform, which will open at noon on Tuesday, will be divided into five categories, including the "Newsroom", "Moon Jae-in's inter-Korean policy", "2000 and 2007 summits", "inter-Korean exchange and cooperation" and "Working with peope for peace on the Korean Peninsula". The "Newsroom" will live stream the summit on April 27 and reveal photos and press briefings as well. "By revealing all the process, it will be used as a channel for communication with the public to make a peaceful peninsula," said Yoon Young-chan, Moon's press secretary.
Meanwhile, the two Koreas held the second teleconference talks on Saturday to build a hotline between the leaders. A working-level meeting between the two countries discussing protocol, security and press coverage for the summit will be held on Wednesday at Tongilgak in Panmunjom. Then another round of high-level talks will be held so the leaders use the new hotline to make a first call ahead of the summit.