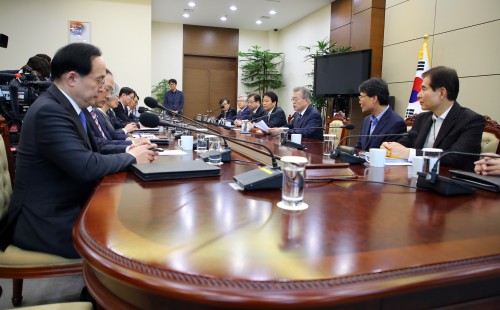 Source: Yonhap News

By AsiaToday reporter Son Ji-eun
President Moon Jae-in has ordered his officials on Wednesday to establish an all-source situation room to daily check on the preparations for the upcoming inter-Korean summit in the border village of Panmunjom this month. He emphasized that the inter-Korean summit should lead to the success of the U.S.-North summit, which is slated for May or early June.
Moon called for thorough preparations at the fifth meeting of the preparation committee for the summit held at Cheong Wa Dae. He ordered to set up a comprehensive monitoring room in order to refine agendas and strategies until the day of the talks and prepare each detail carefully. Cheong Wa Dae will announce its plan for the comprehensive monitoring room on Thursday.
"We are standing at the starting line of a long journey toward peace and prosperity on the Korean Peninsula. We are about to embark on a historic transition of complete denuclearization of the peninsula, lasting peace and sustainable development of South-North Korean relations," the president said. "It is a goal everybody has dreamed of but has never achieved."
He also stressed care and restraint, saying, "Rather than approaching this with too much ambition to resolve all problems at once, I ask you to work with the goal of laying a solid stepping stone for restoring the long-strained inter-Korean relations and ensuring peace and prosperity on the Korean Peninsula through the summit."
Regarding the U.S.-North Korea summit, Moon said he understands that both sides are preparing for this summit with commitment by discussing the time, place and agenda for the summit. "The opening of the U.S.-North Korea summit itself has great significance in the history of the world," the president said. "I look forward to a big step being taken during the U.S.-North Korea meeting in achieving the goal of denuclearization of the peninsula and establishment of lasting peace."
The president also stressed that the inter-Korean summit should be the first step to successfully leading the North-U.S. summit. "We must work to play the role of a great guide so the inter-Korean summit will lead to success in the North-U.S. summit. I hope you pay special attention to the organic relations that plays a role in making the success of not only the inter-Korean summit itself but also the North-U.S. summit."
To this end, Moon ordered the Foreign Ministry headed by Minister Kang Kyung-hwa and the National Security Office headed by Chung Eui-yong to closely communicate and discuss issues with the U.S..
President Moon is scheduled to invite his senior advisors, who led to the inter-Korean summits during the previous Kim Dae-jung and Roh Moo-hyun administrations, to the presidential Cheong Wa Dae on Thursday to ask their advice.