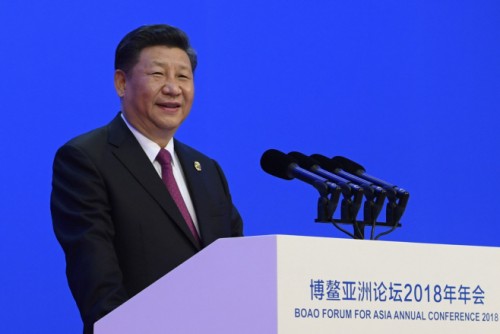 Chinese President Xi Jinping delivers a speech at an annual meeting of the Boao Forum for Asia on Tuesday in Hainan, China./ Source: Xinhua=Yonhap News

By AsiaToday Beijing correspondent Ha Man-joo
Chinese President Xi Jinping has announced plans to further open up the Chinese economy, including expanding imports and building a free trade port, during a Tuesday address.
In his speech at an annual meeting of the Boao Forum for Asia in Hainan, Xi said, "We will pursue a high-level of trade and investment liberalization and facilitation, and seek to build a free trade port." He ushered in a "new era of opening up," by linking East and West with land and maritime routes.
Xi did not specifically mention the candidate for a new free trade port. However, many point out that Hainan could be one of the candidates as Xi said, "Hainan province was born from reform and opening-up and developed through reform and opening-up. It has developed into one of the most open and energetic provinces in China from one of the closed and outdated ones."
Xi said China will take the initiative to expand imports this year, and "significantly lower import tariffs for vehicles while decreasing duties on other products."
Xi promised to ease restrictions on foreign investment in vehicles, and improve the transparency of the investment environment in accordance with international trade rules. Xi added that General Directorate of Market Supervision was established back in March and that China will complete the revision of the negative list for foreign investment this year.
"We will introduce a number of breakthrough measures to expand the entry into Chinese market," Xi said. "We will loosen restrictions on foreign investment in the banking, securities, and insurance sectors. We must also accelerate the progress of the opening of the insurance sector, loosen restrictions on the establishment of foreign-invested financial institutions, and expand the scope for foreign-invested financial institutions to operate within China."
Xi pledged to strengthen the protection of intellectual property rights, adding that China will reorganize the State Intellectual Property Rights Department to expand enforcement capability.
His remarks come after U.S. imposed a high tariff on Chinese imports and filed a WTO complaint claiming that Beijing has repeatedly infringed US intellectual property rights.
"China has begun its historic journey of reform and opening-up in 1978. With great pride, we can say that China's second revolution called reform and opening-up has profoundly changed the country and greatly influenced the whole world," Xi said.
"China's reform and opening-up will succeed while a Cold War mentality, zero-sum thinking, and isolationism will hit walls," he said. "History has shown that opening brings progress while closure leads to backwardness."