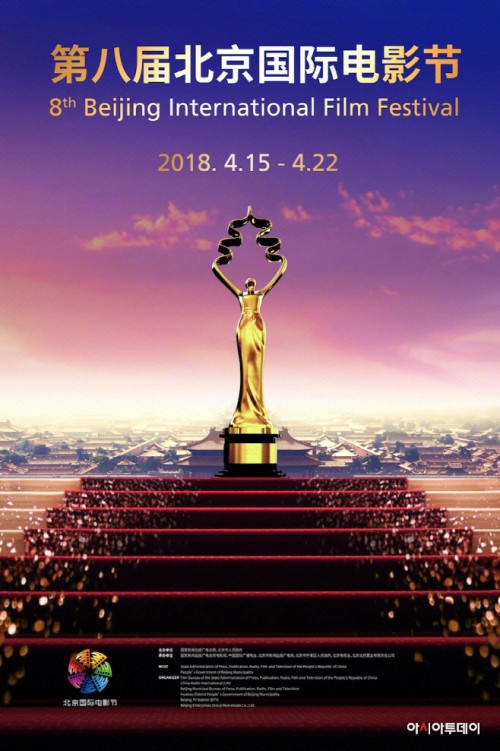 The official poster of the 8th Beijing International Film Festival (BJIFF)

By AsiaToday Beijing correspondent Ha Man-joo
China has allowed the operation of the Korean pavilion at the 8th Beijing International Film Festival (BJIFF), which opens in Beijing on April 15, raising expectations for the lifting of Hallyu ban.
The Korean Film Council (KOFIC)'s China Office told AsiaToday on Monday, "The organizing committee of the Beijing International Film Festival has authorized the operation of the Korean pavilion during the festival." The KOFIC plans to run Korean Film Industry Promotion Center at the Beijing International Hotel Convention Center, where the film market is held on April 18-20. The Korean pavilion will promote Korean films and overseas technology services, seek overseas expansion through business meetings, and promote domestic film festival hosting committee projects.
The Korean pavilion will be operated by 14 companies and organizations, including 8 technology service companies, 3 film distribution and production companies, and 3 committees, according to the KOFIC.
The eight technology service providers include Digital Studio 2L, COCOAVISION, Moneff, TWOSUN DIGITALIDEA, Dexter, Wavelab STD, and Studio Macrograph. The three distribution and film production companies include M-LINE Distribution, More In Group, and Asia Home Entertainment. The Bucheon International Fantastic Film Festival Organizing Committee, Korea Film Commissions & Industry Network, and Seoul Film Commission will also take part.
The KOFIC will also host a meeting between five project companies promoting Korean-Chinese co-productions and Chinese production and investment companies at the Korean pavilion on April 20.
Last year, no Korean pavilion was operated at the festival due to the conflict between the two countries over the deployment of the controversial Terminal High Altitude Area Defense (THAAD) missile defense system. No Korean movies nor actors were invited to the festival.
This year, seven Korean films are invited to the festival to be screened at local theaters in Beijing. The films include "Claire's Camera", "The Day After" (both directed by Hong Sang-soo), "Battleship Island" (directed by Ryu Seung-wan), "Seoul Station" (directed by Yeon Sang-ho), "I Can Speak" (directed by Kim Hyun-seok), "The Preparation" (directed by Cho Young-jun), and animation "Pororo Dinosaur Island Adventure".
Actress Go Doo-shim, the female lead of film "The Preparation", and producer Heo Jeong-wook will visit the festival for stage greetings and red carpet events.