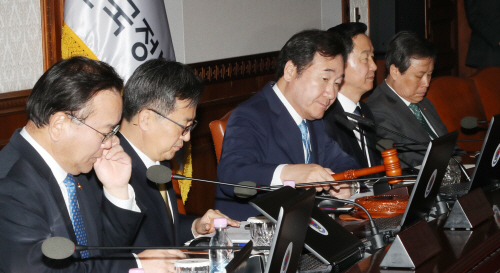 Prime Minister Lee Nak-yon chairs an extraordinary Cabinet meeting on Thursday to pass the government's proposal of 3.9 trillion won extra budget to boost jobs for youth./ Source: Yonhap News

By AsiaToday reporter Cho Sang-eun
The government on Thursday proposed a 3.9 trillion won (US$3.7 billion) extra budget for the youth employment and regional economic recovery. The extra budget is the second since President Moon Jae-in took office last year.
"Last year, the government executed extra budget focused on youth employment. This year, a lot of projects to boost jobs for youth are included in the original budget, but they are insufficient to resolve youth unemployment problem, and we couldn't ignore it," Prime Minister Lee Nak-yon said during a Cabinet meeting convened to pass the proposal. "After understanding the situation, we announced a set of measures for youth employment on March 15. Today's proposal reflects a budget to implement the measures," Lee said.
The proposed budget is composed of 2.9 trillion won for the measures for youth employment and 1 trillion won for regional support.
The 2.9 trillion won supplementary budget for the youth employment is comparable with the total budget for the youth employment worth 3 trillion won set this year.
This means that the government will spend about 6 trillion won in the budget for youth employment this year. The 2.9 trillion won extra budget for youth employment measures is composed of 1.7 trillion won to support young workers' income, housing, and asset building, 800 billion won to expand startups, 200 billion won for creating new job opportunities, and more.
The interesting thing is that some of the support for the government's savings program was modified due to issue of fairness between workers and newly-hired workers at small- and medium- sized enterprises (SMEs), which had been controversial since the government announced its youth employment measures back in March.
In a modified savings program, young employees at SMEs can build a 30 million won nest egg with government support.
For 100,000 newly-hired young workers, the government is offering loans for apartment deposits of up to 35 million won at an annual interest rate of 1.2% for 4 years.
What's also catching attention is that the government is offering a subsidy of 40 million won to high school graduates who get a job in SMEs with promising growth potential.
Considering the crisis of the shipbuilding industry, the government will support 4,400 people who lost their jobs in the wake of massive restructuring in the shipbuilding sector and extend budget to 17.7 billion won.
Without using extra tax revenue or issue government bonds, the government plans to cover the extra budget with some 2.6 trillion won from rolled-over tax surplus and the remainder 1.3 trillion won from funds run by state companies.
With the extra support and implementation of measures, including taxation and system improvement, the government expects to additionally create up to 220,000 jobs through 2021.
The ultimate goal of the government is to stabilize the nation's youth unemployment rate to below 8 percent by 2021.