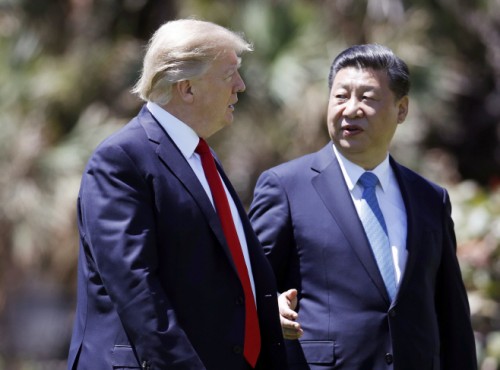 Source: AP, Yonhap News

By AsiaToday reporters Ha Man-joo & Jisu Kim
The trade war between the US and China is now turning into a full-scale battle between the world's two economic superpowers and putting Donald Trump and Xi Jinping's pride at stake.
As soon as the United States Trade Representative (USTR) announced a list of Chinese goods to be targeted by tariffs, China reacted swiftly with retaliatory tariffs on American goods. The tariffs imposed by the two countries also show Trump and Xi concentrate on the fatal items that could hit each other the most.
The USTR announced on Tuesday a list of about 1,300 Chinese exports worth US$50b that could be targeted for tariffs.
In particular, the tariff list includes sectors highlighted in China's "Made in China 2015" project, including high-performance medical equipment, bio-pharmaceuticals, pharmaceutical raw materials, industrial robots, telecommunication equipment, advanced chemical products, aerospace, marine engineering, electric vehicles, light emitting diodes, and semiconductors. The "Made in China 2025" plan, which was announced in May 2015, highlights 10 sectors for national support aimed at becoming an advanced manufacturing power.
This is also a way of practicing a 'high-quality economic growth' model that China declared from the "spirit of the 19th CPC National Congress" along with "Xi Jinping Thought". Therefore, observers say that the recent US move is targeting Xi Jinping.
China quickly responded in an hour after the USTR's announcement, that it would soon take measures of equal intensity and scale against US goods. Then China said on Wednesday that it would levy 25 percent tariffs on imports of 106 US products including soybeans and automobiles. Among the 106 items announced were aircraft, Bloomberg said.
China is the biggest customer for U.S. soybeans and airliners, and second-biggest market for American automobiles. Last year, China imported nearly $14 billion of U.S. soybeans, or about one-third of American's production.
Chinese Foreign Ministry spokesperson Geng Shuang said at a regular briefing on Wednesday, "China has done enough and has done a lot of work in resolving trade dispute through dialogue and negotiations. But the US missed the opportunity again."
Previously, China announced on April 2 that it would impose duties on US food imports including pork and fruit of up to 25 percent.
The inclusion of soybeans and pork in tariffs is clearly aimed at the "Farm Belt" voters who helped elect Trump ahead of the upcoming US midterm elections in November.
However, the Chinese tax agency signaled there was still time for both sides to agree to a settlement, saying the date the 25% tariff hike might take effect would be announced later "depending on what the US government does about plans to raise duties on a similar amount of Chinese goods."