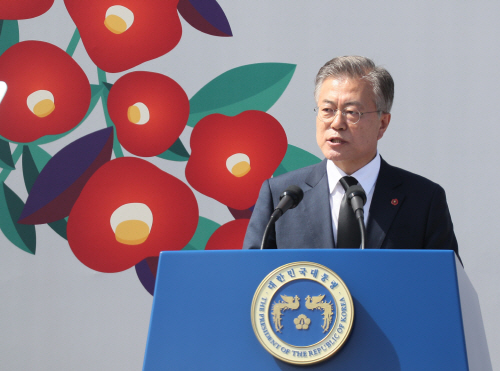 President Moon speaks during a ceremony marking the 70th anniversary of the April 3 incident in Jeju on Tuesday./ Source: Yonhap News

By AsiaToday reporter Joo Sung-sik
President Moon Jae-in on Tuesday officially apologized for the violence inflicted by the state during a ceremony marking the 70th anniversary of the bloody Jeju April 3 incident. Moon is the second incumbent president to make an official apology to the victims, their families, and the Jeju residents for the April 3 uprising after former President Roh Moo-hyun in 2006.
"The April 3 (uprising) is awakened thanks to those who has remembered the pain for a long time with the Jeju residents and voiced truth about the April 3 (uprising)," Moon said. "As president, I deeply apologize once again for all the pains from the state violence," Moon said.
"There are still people who turn away from the truth of the April 3, and there are still those who look at the incident with refracted eyes of old ideologies," he said. "We have to face straightly the painful history of the country, and escape the practice of putting ourselves in the framework of old ideologies."
The president pledged to continue his efforts to restore the honor of the victims and uncover the truth behind the incident, saying, "Verifying the truth behind the April 3 incident is a process of repenting for the unfortunate past and recovering the universal value of mankind. Restoring the honor of the April 3 is our future on a path towards reconciliation, coexistence, peace and human rights."
Moon mentioned that a special law for fact-finding about the tragedy was set up and state responsibility was admitted for the first time during Kim Dae-jung and Roh Moo-hyun administrations, and said, "On that foundation, I pledge to move forward the complete resolution of the April 3 incident without wavering."
"To this end, I will continue to make efforts to retrieve the remains of the missing." He also pledged to do his best to support the victims and their families through measures at the government level, and discuss matters that require legislation with the National Assembly, such as the establishment of a state trauma treatment center. "The complete resolution of the April 3 will be a solid foundation of reconciliation, integration, peace and human rights that all the Jeju residents and the people want," he said.