By AsiaToday reporter Kim Eun-sung
China has vowed to end its apparent retaliatory measures against the deployment of the Terminal High Altitude Area Defense (THAAD), raising hopes among related industries. As this means that one of the downside risk factors for the South Korean economy could disappear, people are paying attention to whether such warm breeze will lead to local economic growth.
The related industries have expressed hopes towards news of THAAD thaw on Monday, but warned against any premature optimism. South Korean retail giant Lotte Group, which suffered great loss because of China's restrictive measures, welcomed the news. Its affiliates that have been its directly hit, including Lotte Duty Free and Lotte Mart, are refraining from making judgments. An official at Lotte Duty Free said, "It is hard to be optimistic because there is little change in the field." Lotte Mart, which is in the process of selling its Chinese operation, said, "There is only one company that is conducting on-site inspection and other companies are conducing document screening. China should lift its suspension of operation first in order to negotiate in a flexible manner, but it's not solved and we cannot feel such warm atmosphere in the field." Hyundai Kia Motor Group also said, "It's too early to be optimistic due to the rapid growth of local Chinese companies." The beauty industry is being hopeful about normalization of businesses. "If we continue our business as we have done so far, we will be able to see positive changes," Korean cosmetics giant AmorePacific said. Duty-free shops and tourism industry forecasted that the situation will not improve soon as it will take time for the normalization of group tours although China lifts its retaliatory measures.
What the industry anticipates the most is the return of Chinese tourists. According to the Korea Tourism Organization, the number of inbound Chinese tourists fell 48.3% last year to 4,169,353 compared to the previous year. In 2016, the number had been more than 8 million. Bank of Korea (BOK) estimated that if the number of Chinese travelers to South Korea is reduced to 4 million, it would reduce South Korea's gross domestic product (GDP) by about 5 trillion won ($4.7 billion). BOK estimated that if the number of tourists recovers to 6 million, the growth rate would rise by 0.2% this year.
Previously, Chinese State Councilor Yang Jiechi visited Seoul as a special representative of President Xi Jinping, and said Korea can "trust that there will be tangible results in the near future" in regards to China's THHAD retaliatory measures, during a meeting with President Moon Jae-in in Seoul on Friday. This is the first time that China has revealed its content, timing and will to lift its restrictions. "For China, South Korea is a strategic country that can promote relations. The longer the political burden is, the less favorable it will be for China. Therefore, So whether to prevent the recurrence depends on Korean diplomacy," said one diplomatic source, speaking on condition of anonymity.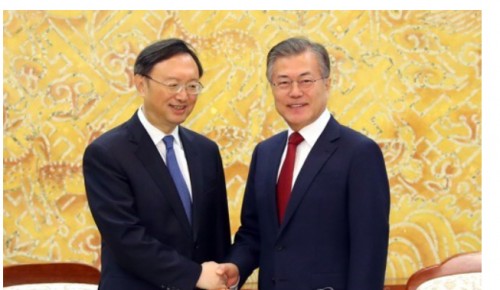 President Moon Jae-in shakes hands with Chinese State Councilor Yang Jiechi at the presidential office Cheong Wa Dae in Seoul on March 30./ Source: Yonhap News