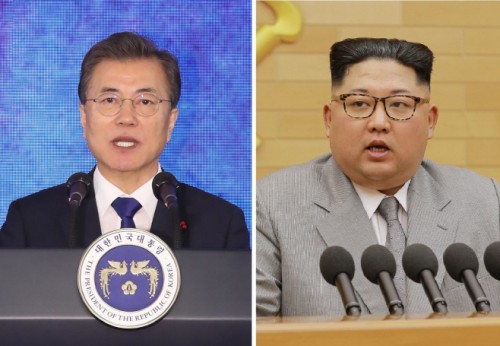 President Moon Jae-in (left) and North Korean leader Kim Jong-un deliver New Year's address on January 1, respectively./ Source: Yonhap News

By AsiaToday reporter Choi Tae-beom
President Moon Jae-in and North Korean leader Kim Jong-un will hold their third, historic summit on April 27 at the Peace House located in the South Korean side of the border village of Panmunjom.
It will be the first between leaders of the two nations in 11 years. Leaders of the two nations have only met twice in 2000 and 2007.
The two Koreas held a high-level meeting Thursday at Tongilgak located on the North Korean side of Panmunjom to prepare for the summit, and released a joint statement with the schedule of the summit and future plans.
Previously, South and North Korea had agreed to hold a summit at the Peace House at the end of April through the North Korea visit of Moon's special envoys earlier this month, and they set the date during the follow-up talks Thursday.
The Koreas plan to hold working-level talks Wednesday in the southern side of Pannmunjom to discuss protocol, security and media coverage issues related to the summit.
However, it is unclear whether there was a specific discussion on agenda items for the planned summit at the high-level talks. The government expects to focus on the issues related to the denuclearization of the Korean Peninsula, the stabilization of peace and the development relations between the South and North, but it will not set a limit.
The two Koreas plan to continue discussing the necessary practical matters through document exchange, and they decided to continue the discussions on agenda items through follow-up talks within this month.
The South Korean delegation for Thursday's talks included Unification Minister Cho Myoung-gyon, Vice Unification Minister Chun Hae-sung, and presidential spokesman Yoon Young-chan. The North Korean delegation included Committee for Peaceful Reunification Chief Ri Son-gwon and two other officials - Jon Jong-su and Kim Myong-il.
"The April summit will be another beginning of a great journey to denuclearize the Korean Peninsula, bring peace to the peninsula and develop inter-Korean ties," said Cho, the South's chief delegate.
In response, the North's chief delegate Ri said, "The reason for the successful meeting today is that Korean people's wish for improving the inter-Korean ties and the peace and security on the Korean Peninsula is ardent." He said the summit provides "immense expectations and new hope for the entire nation that desires for peace on the Korean Peninsula."
"We must cooperate actively with the common will, principle and faith confirmed in the talks to perfectly secure the historic meeting between the leaders," Ri continued.
"We still have a considerable number of issues to resolve on a working-level for the summit over the next month," he said. "But if the two sides deeply understand the historic significance and importance of this summit and work actively, we will be able to solve all problems swiftly and smoothly," he added.