Based in Milan, Italy, the Ricordi Archive preserves operatic scores and works collected by the global music publishing company Casa Ricordi. This past winter, opera critic and Sangmyung University Professor Soo-yeon Sohn shared in a series of columns the essence of Italian opera's great legacy.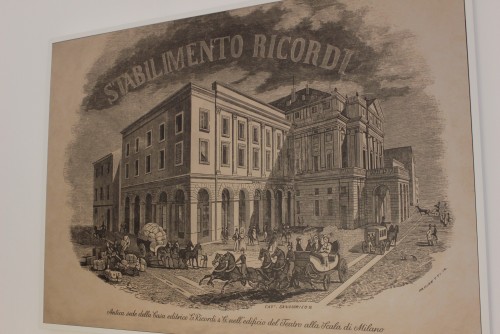 At the time of its founding, it was located next to the La Scala Opera House in Milan./ Photo by Sohn Soo Yeon
The name "Ricordi" may be familiar to some of those interested in opera. However, it's no exaggeration to say that the significance of Ricordi's contributions to Italian opera's history is comparable to that of Verdi or Puccini. The name Ricordi not only represents the renowned music publishing company with over two centuries of history, but it also represents the family name that has been passed down for generations.

The Ricordi family has been in the music publication business for over four generations. While expanding its reach globally with unparalleled authority on opera, the company was entirely family-run for over a hundred years until 1919.

The legacy of the Ricordi family's music publishing business began just after the turn of the 19th century. Giovanni Ricordi (1784 – 1853) was a young Italian violinist who donned several hats as a concertmaster, music copyist and dealer. After studying printing techniques in Leipzig, he returned to Milan and founded he founded Casa Ricordi in 1808, a time of rapid transformation in arts and politics sparked by the French Revolution.

Notable amidst this transformation was the development of sheet music technology. Mozart, the young prodigy who faced an early death, as well as Beethoven, who grew quickly to immense fame, serve as the two iconic composers whose careers were impacted by this new technology. Although Mozart was roughly only sixteen years older than Beethoven, the extent and longevity of their careers differed greatly.

The significance of the music publishing business that only surfaced after Mozart's peak era is unmistakable when comparing the remains of the two composers' music today. Although Mozart started his career very early and left behind many more works than Beethoven, it is incredibly more difficult to find his remaining music. This is primarily due to the fact that the industrial technology for printing music came only after Mozart's time. The discovery of German inventor A. Senefelder's lithographic press brought about great changes to not only the arts, but also the publishing industry. With mass production of what were previously valuable and rare music, the music industry also faced considerable changes.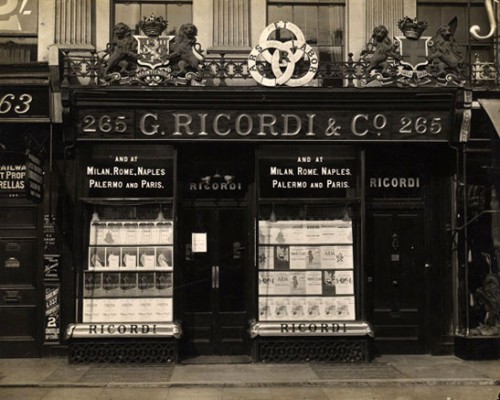 The original print copy of the Casa Ricordi in London, early 20c./ Photo by Ricordi Arcaive
Giovanni Ricordi was a musician who witnessed these transformations up close. The ability to record an artist's music and to preserve and reproduce it with precision was a groundbreaking achievement, perhaps equally as significant as the ability to record music that was discovered later in the century. G. Ricordi was well aware of the potential use and value of composed music, and in order to publish freely, he officially established the publishing company Casa Ricordi.

Casa Ricordi, which can translate to the "House of Ricordi", published various types of music with a particular focus on opera. After acquiring permission to the archives of Milan's La Scala Opera House (Teatro alla Scala) in 1825, G. Ricordi published all the music performed at the opera house, which later became the foundational basis of the company's collection. With the top opera theater as its client, G. Ricordi then proceeded to work with Rossini, the prized opera composer at the time, as well as Donizetti and Bellini, and soon grew to be one of the largest Italian opera music publishers.

In 1839, Casa Ricordi faces yet another historical turning point when G. Ricordi signs a debutant composer named Giuseppe Verdi, a countryside Northerner from Busseto who had recently performed L'Oberto, Conte di San Bonifacio at La Scala Opera House. Casa Ricordi saw Verdi's potential and pursued him to sign over the publishing rights to his first opera. Although Verdi signed his first contract with Giovanni Ricordi, his following works were managed by Giovanni's son, Titto Ricordi who inherited the company in 1853, as well as his grandson, Giulio Ricordi. As Verdi quickly grew to fame across Europe and the world, the company established itself as a major music publisher. In present day, the Ricordi Archives proudly own 23 out of the 28 handwritten opera scores of Verdi.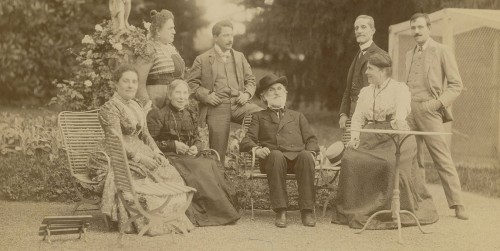 Giuseppe Verdi's original picture taking a rest in Villa Garden, Sant'Agata. The late 19th./ Photo by Ricordi Arcaive

A contributing factor to Casa Ricordi's dominant presence in opera, one of the major cultural industry at the time, was the continued financial deficit in Italian opera that continued to pass on from Verdi to Puccini. Casa Ricordi secured close relationships with these major composers and maintained a market monopoly on their works.

For instance, Casa Ricordi first shook hands with Giacomo Puccini over his first opera Le Villi in 1884, and continued to be his publisher until his death in 1924. Casa Ricordi's collection of Puccini is equally as impressive as that of Verdi--it holds all of Puccini's handwritten opera scores with the exception of La Rondine. When Puccini released his first piece Le Villi as a young man, his opera had been rejected by Casa Ricordi's competing publisher Sonzogno. Just as Giovanni had discovered Verdi, Giulio recognized the raw talent in the poor countryside boy we now know as Puccini.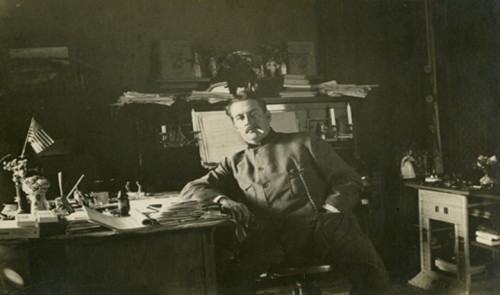 The original Giacomo Puccini's picture was originally 1924 in the studio at Torre del Lago./ Photo by Ricordi Arcaive
After Puccini, Casa Ricordi continued to discover and sponsor nameless young composers. The company provided the artists both the nurturing support and motivation they needed to successfully start their careers. Additionally, Casa Ricordi served as both the director and sponsor of new operas and performances, and managed castings for composers, conductors, performers, and associated opera staff. Over time, Casa Ricordi's active involvement in these fields marked the company as not only a music publisher, but rather as an unparalleled voice of authority in Italy's cultural industry.
As Verdi and Puccini gained international fame as opera composers, Casa Ricordi expanded its horizons as well--it first expanded to major Italian cities like Rome and Naples, and later established branches in London and Paris, and even New York. Around the same time, Casa Ricordi expands its opera publishing business and creates its own opera journal. The journal, which contained advertisements of operas that were playing at the time along with detailed information about them, became quite popular and highlighted the status of opera as a cultural industry once more.

Despite the successes, Casa Ricordi endured immense hardship during and after both world wars. In addition to the economic constraints, the company's headquarters in Milan gets destroyed due to a bombing attack. Upon hindsight, what is truly remarkable and extraordinary is the fact that the vast majority of the countless documents and music that the company had been archiving for over a hundred years survived both wars. And today, the remaining records are preserved as artistic and documentary heritage at the Ricordi Archive.
Soo-yeon Sohn / opera critic and visiting professor at Sangmyung University / yonu44@naver.com
Translation. Betty Heeso Kim