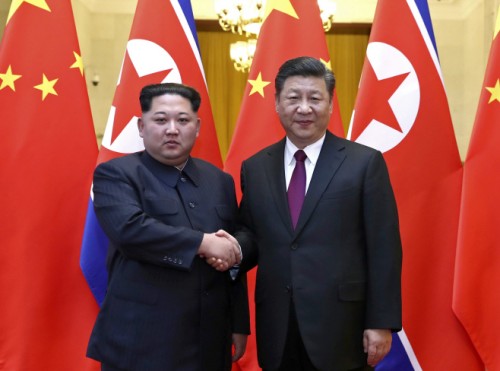 North Korean leader Kim Jong-un (left) and Chinese President Xi Jinping shake hands in Beijing, China./ Source: AP, Yonhap News

By AsiaToday Beijing correspondent Ha Man-joo & reporter Joo Sung-sik
North Korean leader Kim Jong-un has visited China and expressed his willingness to denuclearize during his summit with Chinese President Xi Jinping. This is the first time that Kim officially referred to his commitment to denuclearization in the international stage since he took office in 2012.
The Chinese Foreign Ministry said Wednesday that Kim had a meeting with Chinese President Xi Jinping at the Great Hall of the People on Monday.
"It is our consistent stand to be committed to denuclearization on the peninsula, in accordance with the will of late President Kim Il-sung and late General Secretary Kim Jong-il," said Kim during his summit with Xi, according to the Chinese Foreign Ministry. "The issue of denuclearization of the Korean Peninsula can be resolved, if South Korea and the United States respond to our efforts with goodwill, create a peaceful and stable atmosphere while taking progressive and synchronous measures for the realization of peace," Kim said.
Kim's statement seems that he called for Seoul and Washington to take measures corresponding to steps taken by Pyongyang at the upcoming inter-Korean and North Korea-U.S. summits scheduled in late April and May, assuming goodwill of South Korea and the United States. This seems why he repeatedly expressed his commitment to denuclearization and peace on the Korean Peninsula to Xi.
"We decided to change the inter-Korean relationship to reconciliation and cooperation, and decided to hold a summit with the South. We want to have a dialogue with the United States, so we decided to hold a summit with the U.S.," Kim said. "We intend to strengthen strategic cooperation, and keep peace and stability on the Korean Peninsula."
In response, Xi welcomed Kim's position on the denuclearization of the Korean Peninsula. China, which has feared "China passing" - the idea that China might be ignored in the process of promoting inter-Korea summit and Pyongyang-Washington dialogue, appeared to be delighted at North Korea's request for cooperation.
"China is willing to play a constructive role in the issue of the peninsula and work together with all parties including North Korea to jointly promote the relaxation of the situation on the peninsula," Xi said.
Kim and Xi also agreed to restore relations between the two countries. At the talks, the two leaders agreed to strengthen strategic communications ahead of the inter-Korean and North Korea-U.S. summit talks, and to cooperate with each other through regular dispatch of special envoys and mutual exchanges.
Cheong Wa Dae expects the Pyongyang-Beijing summit to have a positive impact ahead of the summits. "The situation is going beyond what we expected, and we are handling North Korea-related issues with all possibilities in mind," a senior official of the presidential office said. "The improvement of the North Korea-China relations is a positive sign ahead of the inter-Korean and U.S.-North Korea summits."