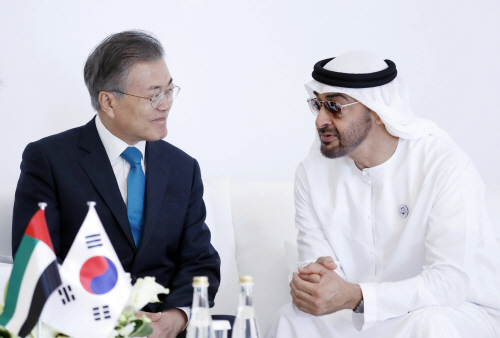 South Korea's President Moon Jae-in talks with Crown Prince of Abu Dhabi Mohammed bin Zayed Al Nahyan ahead of the ceremony to celebrate the completion of Barakah's first nuclear reactor on March 26./ Source: Yonhap News

By AsiaToday reporter Son Ji-eun
President Moon Jae-in was given the UAE's assurance for the additional $25 billion worth of petrochemicals and oil refining projects when he met with top officials following his summit with Crown Prince of Abu Dhabi Mohammed bin Zayed Al Nahyan. The two leaders gained confidence through summit talks and various friendship events on Sunday and Monday, and made such decision at once in a top-down manner.
The crown prince expressed his intent to expand and secure Korean companies' entry into the UAE during the summit Sunday, and ordered his officials to discuss the matter. "The two leaders talked about cooperation in a broad sense in the summit," a Blue House official said on Monday. "Right after the summit, Crown Prince Mohammed gave his instructions to his officials, including Executive Affairs Authority of Abu Dhabi Chairman Khaldoon Khalifa Al Mubarak and Abu Dhabi National Oil Company (ADNOC) CEO Sultan Ahmed Al Jaber," the official said. Mr. Khaldoon and Mr. Sultan are known to be the practical decision makers of UAE's major industrial policies.
"President Moon met with top officials following his summit," the official said. "The officials received specific instructions regarding the deal from the crown prince before they had a meeting with Moon." During the meeting with President Moon, Khaldoon and Sultan said, "We expect to have a $25 billion contract with Korean companies, including Samsung and SK." This is well above the $18.6 billion worth project of the Barakah nuclear plant. Additionally, Samsung has won $3.5 billion deal in oil refinery project, while SK is currently seeking to participate in the crude oil storage project in the Fujairah area.
The UAE also said it will invite Korean companies for the Abu Dhabi oilfield exploration and development project, where only a limited number of companies are invited. The UAE officials also plans to invite Korean companies to the oil, petroleum, and chemical conference hosted by ADNOC in May to make sure they can obtain projects. They also plans for Masdar, Abu Dhabi's state-owned renewable energy company, to advance into third countries in the Middle East, Africa, and the Pacific jointly with Korean companies. The officials said they will work closely with Korean companies in developing Khalifa Port and Fujaira Port.
The UAE also agreed to actively support South Korea in its bid for a nuclear power plant project in Saudi Arabia. For Korea's bid, the UAE officials said they are telling Saudi Arabian government that its nuclear plant project in Barakah, which is jointly promoted with South Korea, is the best, safest and most economical project and that there is no comparable technology cooperation partner to Korea.
President Moon Jae-in returned home on Wednesday after visiting South Korean soldiers at the Akh unit on Tuesday.