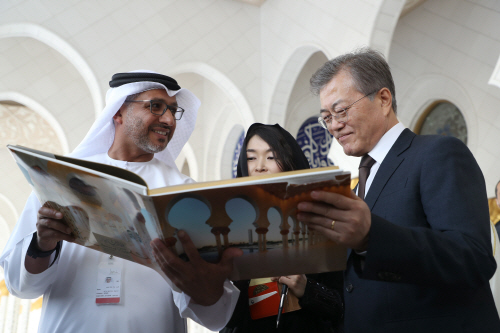 President Moon Jae-in visits the Sheikh Zayed Grand Mosque in Abu Dhabi on March 24 and listens to Dr Yousif Al Obaidli, Director General of the Sheikh Zayed Grand Mosque Centre./ Source: Yonhap News

By AsiaToday reporter Son Ji-eun
President Moon Jae-in and the Crown Prince of Abu Dhabi agreed Sunday in their bilateral summit to launch regular talks between their high-level foreign and defense officials to discuss a secret military deal signed by former South Korean President Lee Myung-bak. They also agreed to upgrade their countries' relationship to a special strategic partnership.
On the second day of his four-day official visit to UAE, Moon held a summit with Crown Prince of Abu Dhabi Mohammed bin Zayed Al-Nahyan at the Presidential Palace in Abu Dhabi. The two leaders agreed to develop their countries' relationship into a higher level of cooperation. Algeria and the UAE are the only countries in the Middle East that have established a strategic partnership with South Korea. Through Moon's tour, the UAE became the first country in the Middle East to form a special strategic partnership with the country.
In particular, the two leaders agreed to launch regular talks between their high-level foreign and defense officials, known as the Two Plus Two Dialogue, to discuss follow-up issues of the secret military pact under the Lee Myung-bak administration. Last December, chief of staff Im Jong-seok made an extraordinary visit to the UAE as Moon's special envoy, provoking controversy that former South Korean President Lee Myung-bak signed a secret military deal without consent of the National Assembly in return for winning nuclear power plant contracts. As the allegation grew, Kim Tae-young, former defense minister under Lee, admitted South Korea signed a secret deal with the UAE to send troops there automatically if the Middle Eastern country became engaged in a military conflict.
In the New Year press conference, Moon said, "If there were flaws in the undisclosed agreements or MOUs, we'll talk with the UAE over revising or supplementing them." The president also said, "It will be open to the public when right time comes."
The two leaders agreed to strengthen cooperation in various fields, including not only the energy, construction and plant sectors but also the fields of intellectual property, science and technology, information and communication technology (ICT), and space. Considering that the UAE is aggressively pursuing a post-oil strategy, they agreed to expand the countries' practical cooperation in new and future-oriented industries that may help create high-value added industries in the fourth industrial revolution. In particular, Moon asked the Crown Prince to "support Korean companies so they can actively participate in the UAE's energy and infrastructure construction." The two leaders also signed five memoranda of understanding calling for increased cooperation in new and renewable energy industries, patent administration, and science and information technology sectors.
President Moon will visit nuclear plant sites in Barakah on Monday, and encourage the Ark soldiers dispatched to the UAE on Tuesday before returning home on Wednesday.