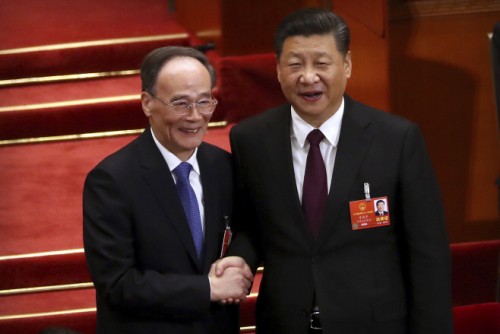 Wang Qishan, who has been appointed China's new Vice President, shakes hands with President Xi Jinping at the National People's Congress (NPC) in Beijing on Saturday. Mr. Wang, who has been called Mr. Xi's right hand man, stepped down from the Communist Party's ruling council in October under informal retirement rules, but returned to political center stage as Vice President./ Source: Yonhap News

By Ha Man-joo, Beijing correspondent, AsiaToday
The appointment of the leadership to lead the second term of Chinese President Xi Jinping has been concluded.

On the face of it, China's political system has maintained the two-member government with Premier Li Keqiang. However, a large number of Xi Jinping's allies have been appointed as China's new leadership, which would inevitably adjust Li's authority. Analysts say that China has returned to the one-man rule system as the country dropped presidential term limits, allowing Xi to serve a third term in office.
Xi was reelected as President and Chairman of the Central Military Commission (CMC) by winning all 2,970 votes at the fifth plenary session of China's National People's Congress (NPC) at the Great Hall of the People in Beijing on Saturday.
Xi's right hand man and the former anti-corruption tsar Wang Qishan returned to center stage as Vice President while Xi's another close ally Li Zhanshu was elected as the next chairman of the NPC.
Xi has officially begun his second five-year term as President after he was re-elected as the General Secretary of the Communist Party of China at the 19th National Congress last October.
Following his first term, Xi Jinping seized the core of China's power structure as President, Chairman of the Central Military Commission (CMC), and General Secretary of the Communist Party of China (CPC).
Xi took an oath of office for the first time in history of the regime. "I pledge to be allegiant to the Constitution of the People's Republic of China, safeguard the Constitution's authority, fulfill my legal obligations, be loyal to the country and the people, be committed and honest in my duty, accept the people's supervision," Xi said. "I vow to work for a great modern socialist country that is prosperous, democratic, civilized, harmonious, and beautiful."
Premier Li Keqiang was re-appointed with 2,964 votes in favor and two against during the 6th plenary session of the National People's Congress Sunday. However, many believe that he is likely to be 'No. 2 Communist Party leader' in name only as he will hand over most of his control over economy to Liu He, Xi's top economic aide.
In addition, Yang Xiaodu, Deputy Secretary of the Central Commission for Discipline Inspection and Minister of Supervision, was appointed as director for the National Supervisor Commission. Xu Qiliang and Zhang Youxia were appointed as vice chairman of the Central Military Commission (CMC) of the PRC at the annual session of the NPC.