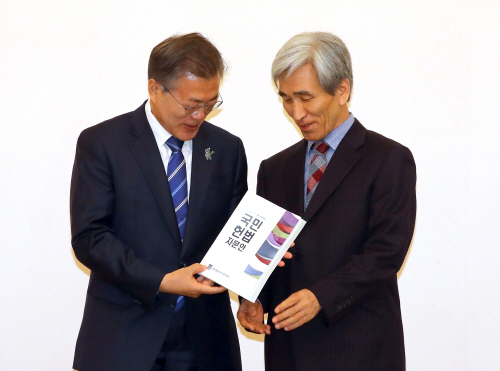 President Moon Jae-in receives the finalized draft for constitutional amendment proposal from Jung Hae-gu (right), the head of the presidential committee on policy planning, at a luncheon held at Cheong Wa Dae on Tuesday./ Source: Yonhap News

By AsiaToday reporter Joo Sung-sik
President Moon Jae-in reaffirmed his efforts to revise the country's Constitution, stressing the need of a vote on constitutional reform alongside the June local elections while putting pressure on the parliament that has made little progress on the revision talks.
Moon highly berated the political parties that have expressed opposition to his attempts at putting together a draft through a special advisory committee on constitutional revision, saying, "Criticizing even the president's preparations for the constitutional amendment to keep his promise to the people is not a responsible political attitude."
President Moon had a luncheon with the members of a special advisory committee on constitutional revision Tuesday at his office Cheong Wa Dae, where he received a government proposal for constitutional changes to the presidential office from the committee head Jung Hae-gu.
After receiving the proposal, Moon said, "Constitutional amendment is a way of constitutionally realizing the people's demand to build a nation that deserves to be called a nation and to make a righteous country. All political parties and their presidential candidates had promised to the people to hold a simultaneous ballot on constitutional amendment during the upcoming local elections."
"If a consecutive term presidential system is adopted now, president and local governments will be able to go together in the next presidential election," he said.
"It is a great waste of national power to hold three national elections during the current presidential term. If the constitution is amended, the number of election will be reduced to two, the simultaneous launch of presidency and local governments will be enabled, and the general election will play a mid-term evaluating role," the president said.
Moon said he would come up with his own revision bill if the Assembly fails to reach the agreement until March 21. "If everything cannot be agreed, the political parties should revise at least those that can be agreed to keep their promise to the people. If they miss his last occasion, I will inevitably have to exercise my right to submit the government-led bill," he said.