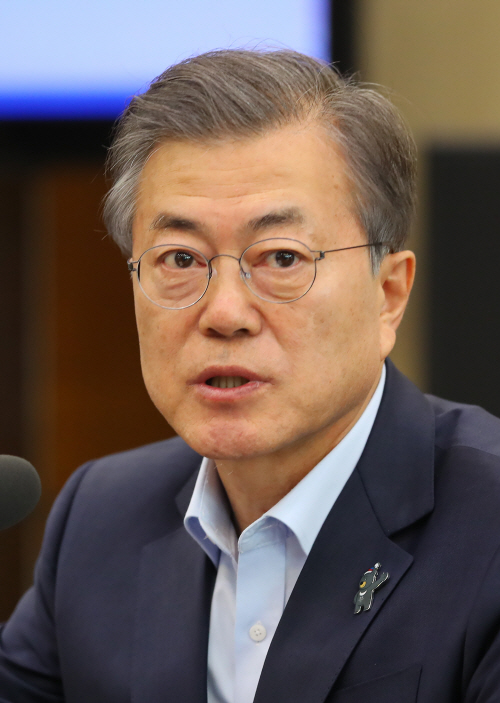 President Moon Jae-in speaks at a weekly meeting with his presidential aides, held at Cheong Wa Dae on Monday./ Source: Yonhap News

By AsiaToday reporter Son Ji-eun
President Moon Jae-in called for national efforts Monday to successfully hold the inter-Korean talks in April and the North Korea-US dialogue in May, saying, "What we hope to achieve in such a short period of time of about two months is a great transition that the world has failed to achieve so far."
"We have a valuable chance to build a path for the denuclearization of the Korean Peninsula, a permanent peace regime, and the joint prosperity of the two Koreas," the president said in a weekly meeting with his presidential aides, held at Cheong Wa Dae. "There will be important changes in the next two months as a South-North Korea summit and a US-North Korea summit will be held."
"If we succeed, there will be dramatic changes in world history, and the Republic of Korea will have played the leading role," he said. "Now the world is paying attention to our ability. The destiny of the Republic of Korea and the Korean Peninsula depends on whether we properly seize the opportunity."
"This is a very important opportunity not to be missed, not just for a government but also for the nation of the Republic of Korea," the president said. "We have been able to create this opportunity not because that is a mere coincidence, but the right way. It is because the whole world wants peace, not war, and a diplomatic solution, not a military solution," he said.
Mentioning the "great transition that the world has failed to achieve so far," he pointed out, "That is why we may not be optimistic about the outcome and must be careful in the process."
"Only the people's support will be our strength that will lead us to success while overcoming unpredictable external factors. I earnestly ask our people, ruling and opposition parties and conservatives and liberals to overcome their differences and join all their strength as one, so the upcoming talks will be successful," he added.