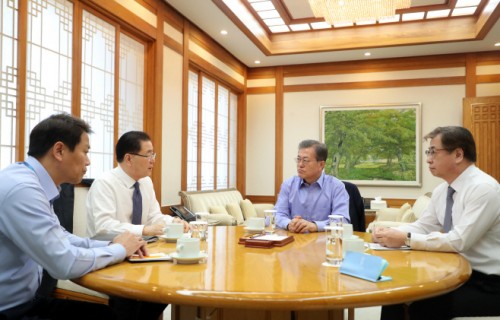 President Moon Jae-in is being briefed on the outcome of US visit by his special envoys - Chung Eui-yong, head of the National Security Office, and Suh Hoon, chief of the National Intelligence Service - at the presidential office Cheong Wa Dae on Sunday./ Source: Cheong Wa Dae

By AsiaToday reporters Heo Go-woon & Joo Sung-sik
The situation of the Korean Peninsula is undergoing a sudden change. Until the PyeongChang Olympic Games held in February, war clouds gathered over the Korean Peninsula with extreme confrontation between the North and the US. However, the Korean Peninsula is undergoing a historical turnaround for permanent peace settlement as President Moon Jae-in dramatically achieved the inter-Korean summit and the North Korea-US summit to be held in late April and May, respectively.
Chung Eui-yong, head of the National Security Office, and Suh Hoon, chief of the National Intelligence Service, arrived home Sunday from Washington after briefing US President Donald Trump on their meeting with North Korean leader Kim Jong-un last week as Moon's special envoys. "Thanks to the support from the people, the South-North summit will be held at the end of April, which will be followed by the US-North Korea talks," Chung told reporters after returning home. "I take this opportunity to express my respect to Moon and Trump's devotion to seeking denuclearization and bringing peace to the Korean Peninsula," Chung said.
He also praised Kim for making a "courageous decision" and stressed, "We will thoroughly make a diplomatic and administrative effort for the two summits to be held successfully and to achieve a lot of results." Chung will head to China and Russia to share the result of his visits to North Korea and the U.S., while Suh will visit Japan.
The top leaders of North Korea and the United States are also showing expectations for the summit. The New York Times reported Saturday that Kim had told the South Koreans that if Mr. Trump would join him in a summit meeting, the two could produce a "historic breakthrough." Trump made clear his intention to engage in direct dialogue with Kim during the Republican candidate election campaign in Pennsylvania on Saturday. He said of his predecessors, "[Obama] would not have done it. And neither would Bush, and neither would Clinton. They had their shot, and all they did was nothing."
At the upcoming inter-Korean summit, Moon is likely to persuade the North Korean leader to take concrete measures that the US government emphasizes. There are also speculations that there is a hint on the 'special message' that Kim delivered to Trump through South Korean special envoys. If the special message includes human rights issues such as the release of three Americans being held captive in the North, the US is more likely to engage in talks. North Korean media outlets have not covered the summit talks with the US as of Sunday. North Korea criticized Saturday the sanctions of the United States on its country, saying, "Any military force, sanctions and containment will not work on us." It seems the North is also adjusting expression intensity for the talks with the US.