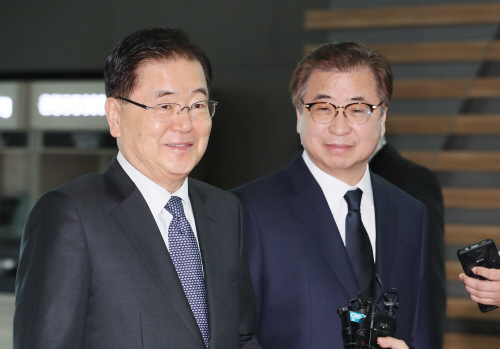 Chung Eui-yong, head of the National Security Office, and Suh Hoon, chief of the National Intelligence Service, answer questions from reporters before their departure from Incheon International Airport to the United States on Thursday./ Souce: Yonhap News

By AsiaToday reporter Son Ji-eun
Chung Eui-yong, head of the National Security Office, and Suh Hoon, chief of the National Intelligence Service, embarked on a four-day trip to Washington on Thursday in a bid to arrange U.S.-North Korea talks. As President Moon Jae-in's special delegation, they are expected to explain the result of their recent trip to North Korea to U.S. President Donald Trump and other top U.S. officials and deliver the position of North Korea. They will focus on arranging talks between the North and United States before the inter-Korean summit takes place in Panmunjeom next month.
"The most urgent agenda is to enable talks between the U.S. and North Korea," Chung told reporters ahead of his departure from Incheon International Airport. A key official of the presidential office Cheong Wa Dae said, "The main body of the message is denuclearization." The South Korean officials are expected to deliver an additional message from the North for the U.S. to facilitate talks with Pyongyang since Chung told reporters earlier, "We do have an additional stance of North Korea that will be delivered to the United States when we visit the U.S."
Speculations are that the message could be about suspending the development of North Korea's intercontinental ballistic missile (ICBM), shutting down of the Yongbyon nuclear plant, or the release of three Americans being held in North Korea. "Considering that Chung has reported the details of his Pyongyang visit to the president shortly after he visited North Korea, only six people (including five special envoys) in South Korea are aware of the message," a key official of Cheong Wa Dae said.
It is said that Chung has called U.S. National Security Advisor Herbert McMaster to roughly explain the result of his trip shortly after returning home from Pyongyang. However, Cheong Wa Dae says that he has not revealed the additional message of North Korea yet. Chung is expected to deliver North Korean leader Kim Jong-un's message directly to Trump.
Chung and Suh will later visit China, Japan and Russia to share the result of their North Korea trip.