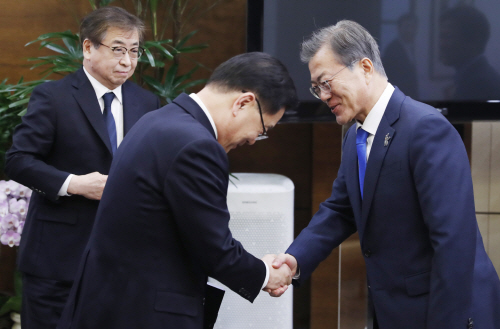 President Moon Jae-in shakes hands with Chung Eui-yong, chief of the National Security Office, and Suh Hoon, head of the National Intelligence Service, after they returned home from Pyongyang on Tuesday./ Source: Cheong Wa Dae

By AsiaToday reporter Son Ji-eun
President Moon Jae-in is accelerating his plan for peace on the Korean Peninsula as his special envoys held an historic meeting with North Korean leader Kim Jong-un. The president is expected to send Chung Eui-yong, chief of the National Security Office, and Suh Hoon, head of the National Intelligence Service, to U.S. President Donald Trump this week to broker a possible dialogue between Pyongyang and Washington.
"I sent special envoys to North Korea yesterday. We have started our journey for peace and prosperity with confidence that we can achieve our goal of establishing peace and denuclearizing the Korean Peninsula through our own strength," Moon said while attending the graduation ceremony of the Korea Military Academy. He made it clear that the talks between the two Koreas should not be "talks for talks", saying, "We must talk with North Korea for the denuclearization of the Korean Peninsula." He also stressed the role of "peacemaking", saying, "We will also continue our efforts to win the full support of other neighboring countries and the international community for peace on the Korean Peninsula."
Moon's such confidence seems to have come from his judgment that the visit of his special envoys to Pyongyang has successfully completed. The special delegates met Kim three hours after they arrived in Pyongyang on Monday, which is considered an exceptional move by the North Korean leader. The North's state-run Korean Central News Agency reported that the North Korean leader listened to President Moon's ideas about the inter-Korean summit proposal and exchanged opinions. The two sides reached a "satisfactory agreement," the report said. A key official from the presidential office Cheong Wa Dae also said the result of the trip by the South Korean envoys was "not disappointing".
The envoys had a meeting and dinner with top North Korean leader Kim Jong-un from 6:00 pm to 10:12 pm at the headquarters of the North's ruling Workers' Party in Pyongyang. It's the first visit by any South Korean official to the facility, according to Cheong Wa Dae spokesperson Kim Eui-kyeom. The dinner was attended by Kim, his wife Ri Sol-ju, his younger sister Kim Yo-jong, Central Committee of the Workers' Party vice chairman Kim Yong-chol, and other key North Korean officials.
In particular, it is worth noting that the North Korean leader had a meeting with the South Korean envoys for over four hours. Considering the venue and duration of the dinner, the Cheong Wa Dae viewed that Kim treated Moon's envoys with respect.