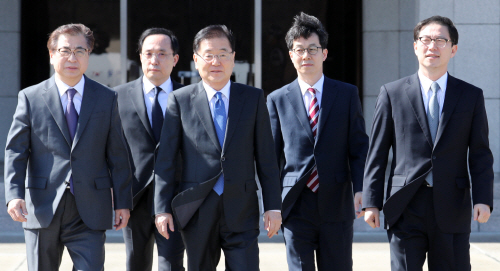 South Korean President Moon Jae-in's special delegation to North Korea head to a special aircraft to leave for Pyongyang at a military airport near Seoul on Monday. The delegation, headed by National Security Chief Chung Eui-yong (second left), include Director of the National Intelligence Service (NIS) Suh Hoon, Vice Unification Minister Chun Hae-sung, Second Deputy NIS Director Kim Sang-gyun, and senior Cheong Wa Dae official Yun Kun-young./ Source: Yonhap News

By AsiaToday reporter Son Ji-eun
South Korean President Moon Jae-in's special delegation to North Korea arrived in Pyongyang on Monday. Led by National Security Chief Chung Eui-yong, the delegation left for Pyongyang for a two-day visit to hold comprehensive discussions with senior North Korean officials on creating the environment for North Korean-United States dialogue for denuclearization, as well as on improving inter-Korean relations.
Moon, who has taken the driver's seat for the Korean Peninsula issue in the wake of the PyeongChang Olympic Games, plans to send his special envoys to U.S. President Donald Trump immediately after the delegates return from Pyongyang to discuss the results. He will also share the results of the visits with neighboring countries as part of his efforts to play a mediating role.
"We will clearly deliver the will and intention of the president, who wants the denuclearization of the Korean Peninsula, and create a calm and lasting peace," Chung said at the presidential office Cheong Wa Dae before he left. He stressed that the visit to Pyongyang is aimed to mediate talks between the United States and North Korea, as well as to bring about denuclearization of the Korean Peninsula.
"The special delegation is composed of those with rich experience and high insight on inter-Korean affairs," Chung said. "I believe they will be a great strength and help in carrying out the duties." The delegation includes National Intelligence Service (NIS) chief Suh Hoon, Vice Unification Minister Chun Hae-sung, Second Deputy NIS Director Kim Sang-gyun, and senior Cheong Wa Dae official Yun Kun-young.
The delegation will head to the United States immediately after returning to Seoul on Tuesday to report to President Moon on their visit. Chung and Suh are expected to head to Washington this week.
Moon also plans to send his special envoys to China and Japan. Some observers say that the envoys might visit China and meet Chinese President Xi Jinping. A key official of the Cheong Wa Dae said, "When the envoys return to Seoul, they plan to explain the results of their visits to Pyongyang and Washington to China and Japan in an appropriate manner."