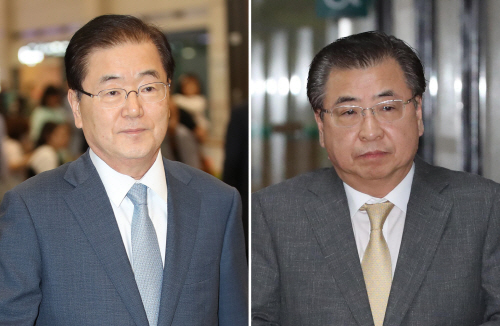 Seoul's presidential office Cheong Wa Dae announced Sunday a special delegation to North Korea, including Suh Hoon, director of the National Intelligence Service (NIS), and Chung Eui-yong, head of the National Security Office./ Source: Yonhap News

By AsiaToday reporter Joo Sung-sik
President Moon Jae-in's special delegation will visit Pyongyang on Monday to discuss the denuclearization of the Korean Peninsula and talks between the United States and North Korea via a western direct route on a special plane. Moon is likely to send a letter to Kim Jong-un through his special envoys in a bid to persuade the top North Korean leader to open talks with Washington.
"President Moon has decided to dispatch a special delegation, led by Chung Eui-yong, head of the National Security Office of the Cheong Wa Dae, to the North. It's the return visit to Kim Yo-jong, who was sent to PyongChang Olympics by Kim Jong-un," Moon's top communication officer Yoon Young-chan said at a briefing on Sunday.
The 10-member special delegation will be composed of five envoys and five working-level officials, according to Yoon. The five senior officials will include Chief of National Security Office (NSO) Chung Eui-yong, Director of the National Intelligence Service (NIS) Suh Hoon, Vice Unification Minister Chun Hae-sung, Second Deputy NIS Director Kim Sang-gyun, and senior Cheong Wa Dae official Yun Kun-young.
"The delegation will travel via a western direct route to North Korea on a special plane Monday afternoon for a two-day visit to Pyongyang. They will engage in dialogue on a peace settlement on the Korean Peninsula and the development of the South-North relations with high-level North Korean officials," Yoon said. "They will hold a comprehensive discussion with the North Koreans, particularly on the creation of conditions for dialogue between the North and the U.S. and on improving inter-Korean relations aimed at denuclearization on the Korean Peninsula."
The most interesting part is whether the delegation will deliver Moon's letter to the North Korean leader during their trip to Pyongyang. "It's not yet confirmed, but there seems to be an equivalent result as North Korea is aware that President Moon met with North Korean special envoy Kim Yo-jong," a senior official of the presidential office Cheong Wa Dae said.
"The top priority of the South Korean delegation will be figuring out what the top officials in the North think about the agenda, including denuclearization and talks with Washington," the official said.
On returning to South Korea Tuesday, the delegation will report to President Moon on their visit and then travel to the U.S. to discuss the result of the meeting with American officials, Yoon said, adding that South Korea will closely coordinate with Japan and China.