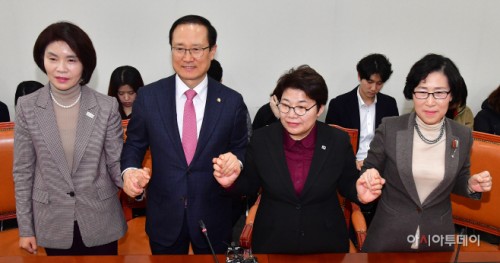 Hong Young-pyo (second left), chairman of the Environment and Labor Committee at the National Assembly; Han Jung-ae (left) of the Democratic Party of Korea; Lim Yi-ja (second right) of the Liberty Korea Party; and Kim Sam-hwa (right) of the Bareun Party hold hands at a three-party press conference on the passing of a bill on reducing working hours, held in Seoul on Tuesday. The National Assembly Committee on Environment and Labor held a session and passed a bill aimed at shortening legal working hours from 68 to 52 hours a week after marathon negotiations./ Photographed by Lee Byoung-hwa

By AsiaToday reporter Park Ji-sook
South Korea's National Committee on Environment and Labor on Tuesday passed a bill calling for reducing the country's maximum statutory working hours to 52 hours a week from the current 68 hours. The bill includes Saturdays and Sundays within the scope of a working week.
The committee approved the revision immediately after its subcommittee on labor held marathon of negotiations from Monday afternoon to early Tuesday and reached a consensus. It is a settlement made in five years since discussing the shortening of working hours in 2013. It will be applied to most of the workplaces within the five-year term of President Moon Jae-in as the envisioned cut in working hours is one of his key election pledges.
The revision will be applied in stages. It will be applied to companies with 300 or more workers on Jul. 1, while workplaces with 50 to 299 workers and those with five to 49 will adopt the shorter hours from Jan. 1, 2020 and Jul. 1, 2021, respectively.
Pay rates for working hours on holidays remained the same. Employees who work less than 8 hours on a public holiday must be paid 150 percent of their nominal wage or 200 percent if 8 hours are exceeded.
The committee also agreed to reduce the number of business types exempt from the working hour limits from the current 26 to 5 that involve land transportation, water transportation, air transportation, other transportation services, and health care. Workers of the five industries will be also guaranteed a minimum of 11 hours of continuous breaks. It will be implemented on Sept. 1.