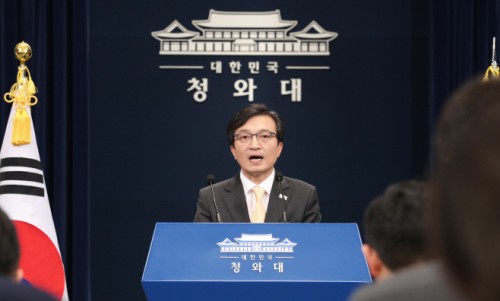 Cheong Wa Dae spokesperson Kim Eui-kyeom speaks at a news briefing over the government's measures related to GM's plant shutdown at the presidential office in Seoul on Feb. 20./ Source: Yonhap News

By AsiaToday reporters Joo Sung-sik & Park Ji-sook
The government has decided on Tuesday to designate the city of Gunsan as a crisis area for industry in response to U.S. automaker General Motors' decision to shut down its automobile plant in the city. It also decided to take measures to designate the city as an employment crisis area. Practical measures are being set up at the governmental and political level in order to minimize the losses to the local and national economy caused by GM Korea's decision to close down its local factory on February 13.
"The Ministry of Labor and Employment decided today to take emergency steps to designate the Gunsan region as an employment crisis area upon the president's order," Cheong Wa Dae spokesperson Kim Eui-kyeom told a press briefing on Tuesday. "The city doesn't meet the requirements to be classified as an employment crisis area, but the government will revise related regulations if necessary to make it happen considering the severity of the situation," Kim added. Once designated as an employment crisis area, Gunsan will be eligible to benefit from special job stability measures through the state-sponsored unemployment insurance system as well as special assistance for employment projects managed by local governments.
The spokesperson said that the Trade, Industry and Energy Ministry has also decided to designate Gunsan as an industrial crisis special response area, entitling it to financial assistance, and low-interest loans for local companies and small business owners.
Lawmakers also met GM executives, including GM Executive Vice President Barry Engle, at the National Assembly in Seoul to question the closure of the Gunsan plant and discuss countermeasures. The lawmakers urged GM executives to be responsible for keeping local jobs and minimizing the impact on the Korean economy. Following the meeting, Engle told reporters, "It is our preference to stay here in Korea and to fix the business and make it a healthy environment." He said that GM may consider allocating two new vehicles to its plants in Bupyeong and Changwon so as to maintain sufficient annual production volume. Engle also promised the company will try to maintain 500,000 units of annual output from its Korean factories.