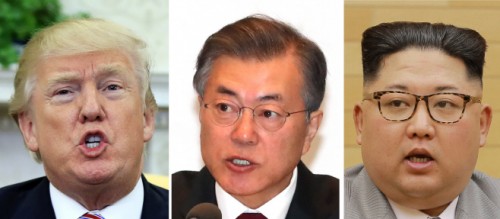 President Moon Jae-in must walk a fine diplomatic line as he has to mediate the US-N. Korea dialogue by leading the improvement of the inter-Korean relations while drawing meaningful progress on the North's denuclearization in the process./ Source: Yonhap News
By AsiaToday reporter Choi Tae-beom
As the United States is trying to engage in talks with maximum pressure on Kim Jong-un's regime while North Korea is trying to take advantage of the warm climate of dialogue to circumvent international sanctions, the South Korean government is carefully approaching to create a framework of inter-Korean talks and US-North Korea dialogue by driving Pyeongchang Olympics momentum.
The reason for the government's cautious attitude is that it should mediate the Washington-Pyongyang dialogue by leading the improvement of the inter-Korean relations while drawing meaningful progress on North Korea's denuclearization in the process.
High-ranking US officials have showed signs of shifting to dialogue with North Korea, but they have set denuclearization as a precondition. The North has expressed its intention not to rush into dialogue with the US. The tug of war between the US and North Korea over dialogue is expected to continue for a while.
The South Korean government has expectations that the momentum of US-N. Korea dialogue will be provided with the visit of Ivanka Trump, who serves as an adviser to her father in the White House, to South Korea for the closing ceremony to be held in Pyeongchang on Sunday, according to a diplomatic source on Monday.
Observers say that President Moon could meet Ivanka, the de facto special envoy of US President Donald Trump, and stress the need for dialogue with the North.
Ivanka is so influential in the US government's decision making that some even say she has the President's ear. Observers say that if Moon successfully persuades her, it could change the negative attitude of Donald Trump towards dialogue with North Korea.
As the United States continues to express its willingness to talk with North Korea, drawing Trump's determination is likely to become a major factor in achieving the US-N. Korea dialogue.
US Secretary of State Rex Tillerson said in an interview on Sunday that he is "listening" for signs that North Korea is ready to engage in direct talks while reiterating that the White House is willing to work with North Korean leader Kim Jong-un.
However, North Korea is not expected to respond immediately to US-North Korea dialogue as the US is presenting the denuclearization as the starting point of dialogue. Experts say that the North will keep a close watch on the US' movements while promoting inter-Korean private exchanges.