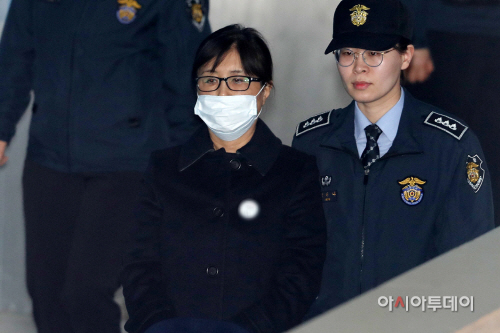 Choi Soon-sil, Park Geun-hye's longtime friend and confidante, enters the Seoul Central District Court on Tuesday to attend her sentencing over the corruption that led to Park's impeachment./ Photographed by Kim Hyun-woo

By AsiaToday reporter Lee Sang-hak
The secret confidante of former South Korean president Park Geun-hye who was at the center of an influence-peddling scandal has been sentenced to 20 years in prison.
The Seoul Central District Court sentenced Choi Soon-sil to 20 years in prison on Tuesday and ordered her to pay a fine of 18 billion won (US $16.6 million), saying, "Considering the extreme confusion in state affairs caused by her crimes and the people's sense of disappointment, the guilt of the accused is extremely heavy."
The court found Choi guilty on most of her charges including bribery and abuse of power and acknowledged that Choi colluded with Park to extort money from business conglomerates abusing power.
The court also recognized as bribes 7.3 billion won out of 43 billion won that Choi and Park were accused to have received or were promised by Samsung's de facto head Lee Jae-yong.
The court also found Choi guilty of forcing KT, Hyundai Motor Group, POSCO and other conglomerates to give business favors to her or her acquaintances.
"Taking advantage of long private ties with the country's most powerful person, she used the president's power to force companies to donate funds to foundations and receive bribes," the court said. "Her broad meddling in state affairs caused great confusion which led to an unprecedented impeachment of a president."
"Choi has not shown any remorse and consistently denied her charges. Severe punishment is inevitable," the court pointed out.
Former presidential aide An Chong-bum was sentenced to six years of prison and a fine of 100 million won for corruption. Lotte Chairman Shin Dong-bin was sentenced to 2 and a half years in prison and the forfeiture of 7 billion won. The court recognized that Shin unfairly requested Park's support in obtaining a license to operate a duty-free shop in Seoul.
For An, the court said, "Even though he was in a position that demands high integrity and morality, he broke down the trust by accepting bribes and providing the basis for the whole influence-peddling scandal and gave a great disappointment to the people."