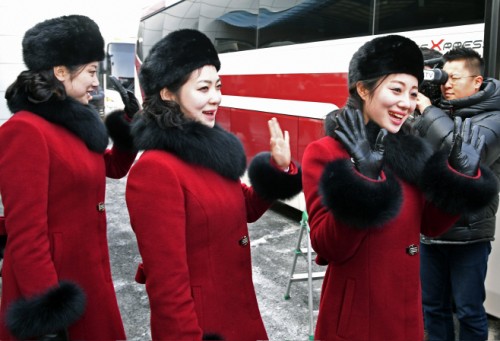 A group of 280 North Koreans, including Pyongyang's sports minister Kim Il-guk, officials from the National Olympic Committee (NOC), cheerleaders, taekwondo demonstrators, and journalists arrived in South Korea by land on Wednesday./ Source: Joint Press Corps

By AsiaToday reporters Heo Go-woon & Jo Jae-hyung
Kim Yo-jong, the younger sister of North Korean leader Kim Jong-un, will visit South Korea to attend the opening ceremony of the Winter Olympics on Friday. Whether the dictator's sister and trusted ally will be delivering any message to South Korean President Moon Jae-in from Mr. Kim has become a hot topic. In addition, a group of 280 North Koreans including cheerleaders, taekwondo demonstrators, and journalists arrived in South Korea by land. It's the first time in 13 years that the cheering squad appeared in South Korea.
The North informed the South Wednesday that Kim Yo-jong, 1st vice director of the Central Committee of North Korea's ruling Workers' Party, will be included in the delegation led by ceremonial head of state Kim Young-nam, according to South Korea's unification ministry on Wednesday. The delegation will also include Choe Hwi, chairman of the country's National Sports Guidance Committee, and Ri Son-gwon, head of the North's agency in charge of inter-Korean affairs.
It will mark the first official visit to the South of a member of the ruling Kim family. Ms. Kim is expected to play a role of 'agent' delivering a message from the North Korean leader.
"The government sees North Korea's high-ranking delegation is meaningfully composed of party, government, and sports officials, given that their trip is aimed at celebrating the opening ceremony of PyeongChang Winter Olympics," the ministry said.
"Kim Yo-jong will be carrying a handwritten letter from Kim Jong-un that expresses his hopes for the success of the PyeongChang Olympic Games and the improvement of inter-Korean relations," said professor Yang Moo-jin of the University of North Korean Studies in Seoul. "It seems Kim Jong-un's consideration to let his sister enlarge her experience about the international stage by debuting her in a sports event, which is non-political."
Meanwhile, a 280-member North Korean delegation arrived at South Korean Customs, Immigration, and Quarantine (CIQ) at around 9:28 local time via the Gyeongui Line. The group is comprised of four officials from the National Olympic Committee (NOC), 229 cheerleaders, 26 Taekwondo demonstrators and 21 reporters.
Pyongyang's sports minister Kim Il-guk, who led the delegation, told reporters, "Let's word hard together for this sports meeting."
The North Korean delegation moved to the lodge in Gangwon Province after arriving in the South. They will be attending a welcome dinner hosted by vice minister of unification Chun Hae-sung.
As of Wednesday, 473 North Koreans related to the PyeongChang Olympic Games are staying in South Korea.