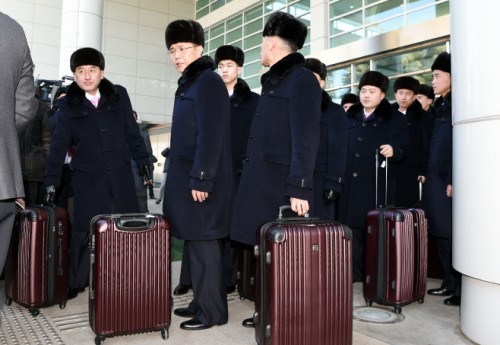 A 23-member advance team of North Korean art troupe arrived in South Korea on Monday via a land route on the Gyeongui Line in western South Korea./ Source: Joint Press Corps

By AsiaToday reporter Heo Go-woon
An advance team of North Korea's art troupe that will perform in Gangneung and Seoul for South Korea's Winter Olympics arrived in the South on Monday. The art troupe will arrive in the South on Tuesday using the Mangyongbong 92, a ferry that mainly operates between North Korea and Russia, for transportation and lodging.
The 23-member advance team, led by Kim Sun-ho, an administrative vice chief of the North's Samjiyon Orchestra, crossed the Military Demarcation Line (MDL) via the land route on the Gyeongui Line at 11:28 a.m. and arrived at the Inter-Korean Transit Office at 11:30 a.m. on Monday. The team brought musical instruments and other equipment and completed the entry procedures at around 1:17 p.m. before arriving in the capital city.
When asked by South Korean reporters to say a few words on performing in the South, Kim said they will do their best to prepare for the performances. "You will see what we've prepared when the performances are held," he said, when reporters asked which songs will be included.
The advance team got on a 45-seater bus and departed at 1:26 p.m.. The North Koreans moved to their lodge Inje Speedium and visited Gangneung Arts Center to help prepare for performances.
The art troupe's first performance will be held at Gangneung Arts Center at 8 p.m. on Thursday, followed by a concert at the National Theater of Korea in Seoul on Sunday.
Earlier, the North said it would send the art troupe via the land route on the Gyeongui Line. However, it abruptly notified the South on Sunday that it plans to send the art troupe on a ferry on Tuesday. Unification Ministry Spokesperson Baik Tae-hyun said in a news briefing on Monday that the North informed the South the previous day that the troupe's main group will be travelling on the Mangyongbong-92 on Tuesday and will also use the ferry as accommodation.
North Korea's plan could constitute a violation of Seoul's so-called May 24 sanctions established in 2010 to punish the North's sinking of a South Korean warship in March of that year. Baik said that the government is considering an exemption to make the PyeongChang Games a success.