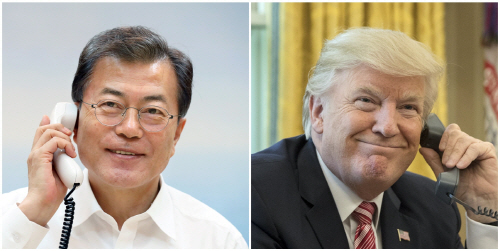 South Korean President Moon Jae-in and U.S. President Donald Trump hold a telephone conversation on Saturday./ Source: Yonhap News

By AsiaToday reporters Joo Sung-sik & Kim Ji-soo
While North Korea's participation in the PyeongChang Winter Olympics has raised hopes for peaceful Olympics, concerns over the so-called "Post PyeongChang" on the Korean Peninsula are rising. However, the international community, including the United Nations, is emphasizing the need for continuous dialogue with North Korea and the South Korean government is showing a strong will to revive the momentum of inter-Korean relations that the PyeongChang Olympics has brought, raising hopeful expectations.
According to the presidential Cheong Wa Dae on Sunday, President Moon Jae-in will be gearing up his peace diplomacy by having talks with top-level officials attending the PyeongChang Olympics in order to build peace on the Korean Peninsula. First, Moon will take part in the opening ceremony of the International Olympic Committee session in Gangneung on Monday.
He will be having a hectic schedule on Feb. 6-9 to hold bilateral talks with the leaders from Estonia, Canada, Switzerland and Germany as well as with United Nations Secretary-General Antonio Guterres. What's more drawing attention is that he will have talks with U.S. Vice President Mike Pence and Japanese Prime Minister Shinzo Abe on February 8 and 9, respectively.
Besides, a clash is expected as Pence made it clear on Friday that he is attending the upcoming Winter Olympics to send a simple message that the era of U.S. "strategic patience" is over with North Korea. Before coming to South Korea, Pence is scheduled to hold talks with Abe in Japan to discuss ways to strengthen sanctions over North Korea. In a summit meeting with Moon, Abe is expected to ask Moon to resume joint military drills between South Korea and the United States that would take place after the Olympics.
Most of all, Moon is likely to stress the need for North Korea-U.S. dialogue after the Olympics in a meeting with Pence. In a telephone conversation with U.S. President Donald Trump on Friday, Moon expressed hope that the momentum on improving inter-Korean dialogue resulted from the Olympics will continue to help build peace on the Korean Peninsula. He also expressed hope that Pence's visit to South Korea would contribute to the peace-building process.
In a summit meeting with Abe, who is continuing to talk tough against North Korea, Moon is expected to actively address the need of continuing dialogue with the North.
The United Nations has also stressed that the international community must be active in order to maintain inter-Korean dialogue after the Olympics. UN Secretary-General Antonio Guterres said Friday that the improvement in inter-Korean relations is positive, and it's encouraging that the inter-Korean military hotline has been rebuilt. "It's absolutely essential that serious discussion take place among the key actors in this process and the UN will do everything possible to encourage them in that regard," he said.