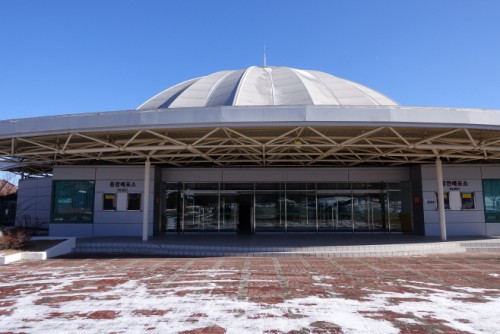 The view of Mt. Kumgang Cultural Center where the joint cultural event was going to take place./ Source: The Ministry of Unification

By AsiaToday reporter Heo Go-woon
The Seoul government expressed regret over North Korea's unilateral cancelation of a joint cultural event scheduled to be held at its Mt. Kumgang on February 4th. The government plans to carry out the existing inter-Korean agreements, such as joint training session by South and North Korean skiers at North Korea's Masikryong Ski Resort, in order to keep the window of inter-Korean dialogue open.
According to the Unification Ministry on Tuesday, Seoul sent a notice under the name of Unification Minister Cho Myoung-gyon to Ri Son-gwon, the chairman of the North's Committee for the Peace Reunification of the Fatherland, expressing regret over North's cancellation of a joint cultural event scheduled to be held at Mt. Kumgang blaming South Korean media.
The ministry said that the notice stressed that both South and North should implement the agreements made based upon the spirit of mutual trust and understanding at a time when both Koreas managed to take a first step with difficulty towards the improvement of inter-Korean relations.
Previously, North Korea unilaterally informed its cancellation at around 10 p.m. Monday night. The North reportedly said in a notice that South Korean press was fanning public opinion that insults the North's sincere efforts made for the PyeongChang Olympics, and even took issue with the North's internal celebratory event, leaving the North no choice but to cancel the agreed-upon event.
"While there are even expectations of K-pop concerts coming up from South Korea, it seems that North Korea is just not ready for such things," said Chung Young-tae, Director of the North Korea Research Institute, as for the reasons why North Korea abruptly cancelled the Mt. Kumgang event. " An official from the unification ministry said, "It seems that North Korea felt burden in carrying out large-scale events in its country within a short period of time."
The two-day joint training session at Masikryong Ski Resort scheduled to take place starting on January 31 is expected to carry out as planned as the North has not commented on it. "North Korea believes promotion is absolutely necessary for Masikryong," Chung said.
"We are currently in the final stage of coordination on the Masikryong joint training," the ministry official said. "Internally, we will prepare it as scheduled and the South Korean delegation including the reporters group will be leaving for North Korea as planned."
The South Korean delegation is planning to depart from Yangyang Airport in Gangwon Province on Wednesday to travel to the North's Kalma Airport in Wonsan before taking a land route to Masikryong Ski Resort.
However, the government has not yet made its official announcement. "There is no particular arrangements made with the North," the ministry official said. "There are lots of interests that need to be coordinated eventually."