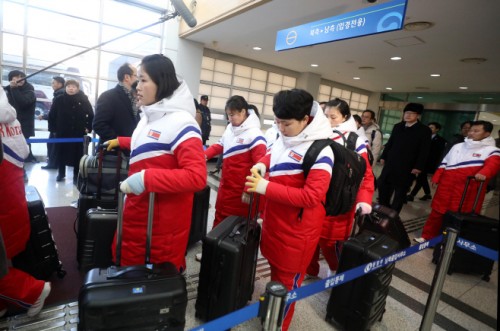 North Korean women hockey players pass the Customs, Immigration, and Quarantine (CIQ) at the Inter-Korean Transit Office in Paju on Jan. 25./ Source: Joint Press Corps)

By AsiaToday reporter Heo Go-woon
Female hockey players from the two Koreas met with each other Thursday to form the first-ever unified team at next month's Winter Olympics in PyeongChang. Along with the players, a separate eight-member delegation of North Korean officials arrived in South Korea to check the competition venues.
The North Korean inspection team led by Yun Yong-bok, a senior official at the North's Sports Ministry, and female ice hockey players crossed the military demarcation line (MDL) and passed the South's Customs, Immigration, and Quarantine (CIQ) in Paju.
After completing the entrance procedure, the North Korean inspection team headed to Gangwon Province while the women hockey players headed to the South's national ice hockey facility at Jincheon for joint training.
Lee Jae-kun, head of the athletes' village, told the North Koreans after they got off a bus, "I truly welcome your arrival. I hope you will do your best and give good results. I will do my best to make sure you don't feel uncomfortable while you are here."
North Korean coach Park Chol-ho said, "I'm very pleased that North and South have got together (for the Olympics). I expect we will achieve good results if we unite our efforts despite having a short period of time."
Park presented Sarah Murray, the coach for the unified team, a bouquet of flowers and she thanked him in response. The Korean players shouted "We are one!" and took a group photo.
The North Korean players will stay at a guesthouse in Jincheon athletes' village for joint training with their South Korean counterparts next week. The unified Korean team will have a warm-up match against Sweden on February 4 and kick off their group action against Switzerland on February 10.
North Korean athletes competing in short track speedskating, alpine skiing, cross-country skiing, and figure skating will in South Korea on February 1.
The North Korean inspection team who headed to Gangwon Province visited the Inje Speedium, which will serve as accommodation for the North's cheering team. The inspection team also checked out Gangneung ice arena, Gangneung Olympic athletes' village, and Kwandong Hockey Centre.
On Friday, the delegation will visit PyeongChang to check out the Pyeongchang International Broadcasting Center (IBC), Olympic Stadium, Alpensia Cross Country Center, and Yongpyeong Ski Resort. They will head to Seoul on Saturday to check a hotel and MBC's headquarters in Seoul for the taekwondo demonstration team before returning to the North via the Gyeongui Line overland route.