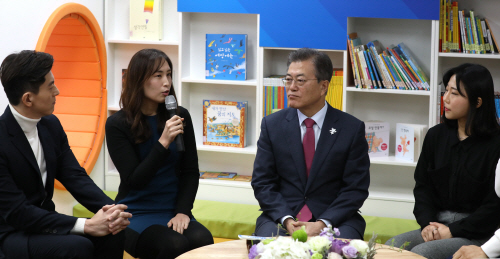 President Moon Jae-in listens to one of the parents during his visit to a public daycare center in Seoul on Wednesday./ Source: Yonhap News

By AsiaToday reporters Joo Sung-sik & Kim Eun-sung
South Korea's 'birth strike' is becoming a reality with the number of newborn babies continues to decrease for 24 months, and many point out that a host of special measures are urgently needed to encourage people to make more babies. It is estimated that the number of newborns last year will reach the lowest annual figure in history. In particular, about 27,000 babies were born in November last year, down 11.2 percent, or 3,400, from a year earlier, breaking the monthly record low of 27,400 babies in December 2016.
The government has been implementing various measures in an attempt to increase the world's lowest birth rate which focus on allowing women to work shorter working hours. However, experts suggest that along with policies to solve childcare gap, such as shortening working hours and expanding institutional support for working families, political considerations are needed to create an environment that helps women work in the labor market without worrying about childbirth and childcare.
The number of newborn babies in November 2017 was the lowest in history, according to data from Statistics Korea released on Wednesday. What's more concerning is the downward trend with double-digit declines for 12 straight months. The childbirth number during the January-November period was only 333,000, down 12.1 percent compared with the same period in the previous year.
◇ President Moon pledges to raise the proportion of children using national & public kindergartens to 40%
The continued childbirth decline is attributed to the socio-economic structure that makes it tough for women to combine work and parenting. Above all, gender disparity influenced by traditional Confucian values of family and patriarchy is not guaranteeing working women to share household responsibilities. Besides, the increasing cost of childcare and the decreasing incomes are also discouraging them.
In order to solve these problems, the government announced last December comprehensive measures to boost the country's low birthrate, including the guarantee of the parenthood of men workers, the realization of childcare leave benefits, and the introduction of maternity benefits for female workers without employment insurance.
President Moon Jae-in visited a public daycare center in Seoul Wednesday and held a policy meeting with the parents and childcare teachers. "I have set the goal of increasing the proportion of children using national and public kindergartens and childcare centers, which are known for their high-quality education at a relatively low price, to 40 percent during my term," the president said. He expressed a strong will to encourage childbirth by supporting the combination of work and parenting.

"Ensuring women's economic activity and parenting at the same time should be the core of government measures to solve the low birthrate problem," said Park Jong-seo, a researcher at the Korea Institute for Health and Social Affairs. "The current government is expected to play an important role in resolving the childcare gap, one of the causes of low birthrate," he said.